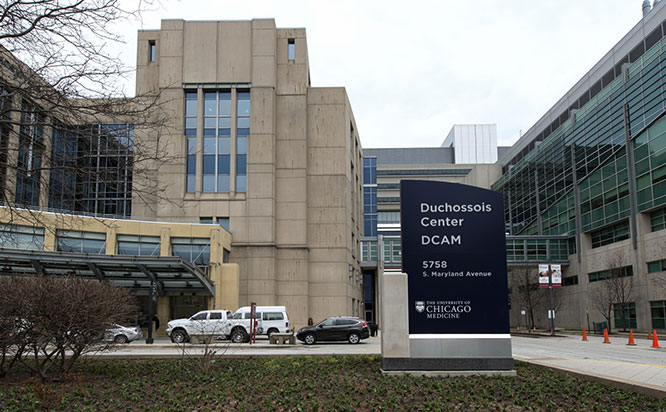 UChicago Medicine Duchossois Center for Advanced Medicine - Hyde Park, also known as DCAM, is our flagship outpatient facility.
Located in Chicago's historic Hyde Park neighborhood, this six-story building puts comprehensive diagnostic care and world-class treatment under one roof. Home to dozens of primary and specialty clinics as well as a pharmacy, the building includes more than 300 exam rooms, nearly 100 procedure rooms, surgery suites and imaging equipment including PET/CT and MRI scanners. It also has facilities for nuclear medicine along with linear accelerators and simulators for radiation therapy.
DCAM brings the knowledge and resources of UChicago Medicine to the outpatient setting, including clinical trials in virtually every medical area and more research funded by the National Institutes of Health than anyplace else in Illinois.
Outpatient Pharmacy
Our on-site pharmacy in Hyde Park is located on the first floor of the Duchossois Center for Advanced Medicine (DCAM) building. The pharmacy is open Monday through Friday from 7 a.m. to 7 p.m., and Saturday from 7 a.m. to 11 a.m. and 12 p.m. to 3 p.m. You can reach the DCAM Outpatient Pharmacy at 773-834-7002.
If you need pharmacy services after business hours, Walgreens pharmacy at the intersection of East 55th Street and Lake Park Avenue is open 24 hours a day. This pharmacy accepts Medicaid insurance. You can reach this pharmacy by calling 773-667-1177.

The DCAM Outpatient Pharmacy now provides Specialty Pharmacy services. You can reach the University of Chicago Specialty Pharmacy at 773-834-2285.
Save a Trip with an E-Visit
You may be able to avoid coming in person for an evaluation by participating in an online e-visit. University of Chicago Medicine currently offers online e-visits for certain, minor health issues that may not require a physical exam or testing. These include but are not limited to:
Headache
Back pain
Urinary tract infection
Cough
To be eligible to participate in an e-visit, you must be located in the state of Illinois and have had an office visit at an applicable UChicago Medicine primary care location center within the past three years.
E-visits are managed from 8 a.m. to 5 p.m. Monday through Friday. We will respond to requests within one business day.
E-visits are available through your MyChart account. To get started, visit UChicagoMedicine.org/mychart
If you have a non-urgent issue, you can message your care team through MyChart or call the Primary Care Group at 773-702-6840.
If you have a more urgent medical need that requires same day follow up, call the Primary Care Group at 773-702-6840.
If you are experiencing a medical emergency, you should go to your nearest emergency room, or dial 911.
Ask your UChicago Medicine provider for additional details about online e-visits.
Protect Yourself and Others from the Flu
UChicago Medicine offers flu shots for existing patients at several locations on the South Side and in the south suburbs. Find a convenient location near you.
Flu Vaccination Clinics