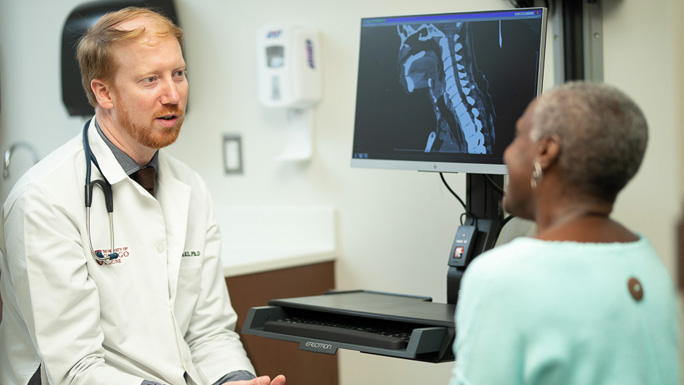 The head and neck cancer specialists at UChicago Medicine care for hundreds of patients each year, making our program one of the busiest programs in the country. Our expert team includes head and neck surgical oncologists, medical oncologists, radiation oncologists, reconstructive surgeons, radiologists, pathologists, speech/swallowing therapists, physical therapists, symptom management specialists and highly trained nurses.
Our multidisciplinary head and neck cancer team is nationally and internationally renowned for its expertise, leading-edge care and outstanding outcomes. Just as important, patients and their families recognize us for our extraordinary dedication to helping patients maintain the best possible quality of life during and after treatment.
At the Forefront of Head and Neck Cancer Care
UChicago Medicine offers leading-edge care for head and neck cancer, including the most advanced medical and surgical treatment approaches:
Tailored care for HPV-associated head and neck cancers, including strategies to "de-escalate" the treatment and lessen the side effects of treatment for HPV-associated cancer. Our personalized approach decreases the intensity of treatment based on how well a patient's cancer responds to chemotherapy. After the chemotherapy shrinks the tumor, patients are treated with surgery and 40% less radiation focused on a much smaller area. This advanced approach resulted in the nation's leading survival rate for such cancers: ~95% of our patients were still alive after two years, and patients treated with less radiation were less likely to need feeding tubes. Learn more: PubMed study abstract or read the original study published in the Annals of Oncology (PDF)
Organ-sparing combined radiation and chemotherapy approaches, which can cure locally advanced head and neck cancers of the tongue and larynx (voice box) without major surgery while preserving speech, voice and swallowing functions. UChicago Medicine pioneered this approach.
State-of-the-art, minimally invasive surgical approaches for cancers in the throat, tonsils and base of tongue, including robotic surgery for the throat, laser microsurgery for cancer of the voice box and natural orifice surgery involving the transoral approach for thyroid disorders.
Innovative surgical approaches, including transoral robotic surgery (TORS), a procedure that harnesses the power of robotics to access difficult-to-reach tumors through the mouth, which is less intense and better tolerated than open surgery.
Leaders in Head and Neck Cancer Research
Our doctors and scientists are committed to advancing management of head and neck cancer through research. Our team is continually conducting research into every aspect of this disease. Some of our key areas of research are:
Providing less toxic, better-tolerated treatments for patients with HPV-associated head and neck cancers
Expanding the use of immunotherapy, which harnesses a patient's own immune system to treat cancer with fewer side effects
Testing targeted therapies, such as drugs that fight against the cancer cells specifically
Increasing cure rates by integrating new drugs with the initial dose of chemotherapy to shrink the tumor and potentially prevent it from spreading
Testing new medications for recurrent and metastatic head and neck cancer
Convenient Locations for Cancer Care
Request an Appointment
The information you provide on this secure form to request an appointment with a UChicago Medicine head and neck cancer expert will enable us to assist you as efficiently as possible. A representative will contact you within one to two business days to help you schedule an appointment.
You can also make an appointment with our providers by:
– Scheduling a virtual video visit to see a provider from the comfort of your home
– Newly diagnosed patients can schedule a 15-minute introductory Express Expert Cancer Opinion virtual session at no cost
– Requesting an online second opinion from our specialists
To speak to someone directly, please call 1-855-702-8222. If you have symptoms of an urgent nature, please call your doctor or go to the emergency room immediately.
For Referring Physicians
To refer a patient for head and neck cancer care, please call UCM Physician Connect at 1-800-824-2282.
Chef Triumphs Over Tongue Cancer
Cancer specialists across the country told top chef Grant Achatz that his only option for treating a stage 4 tumor was to remove most of his tongue. The head and neck cancer team at UChicago Medicine offered him a different approach, one that saved his tongue and his life.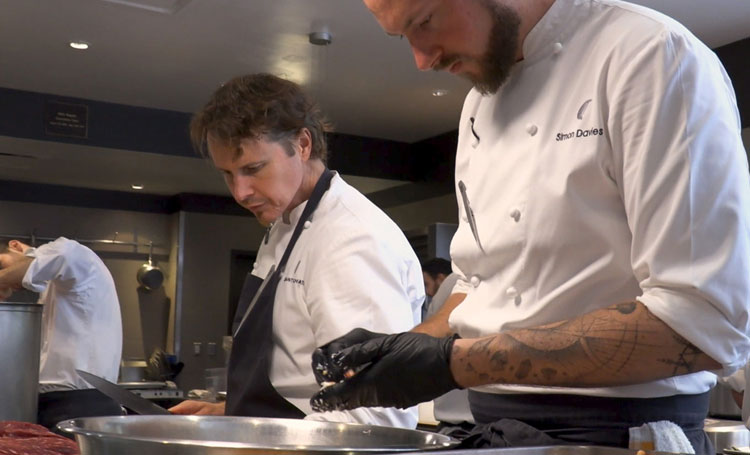 Head & Neck Cancer Articles