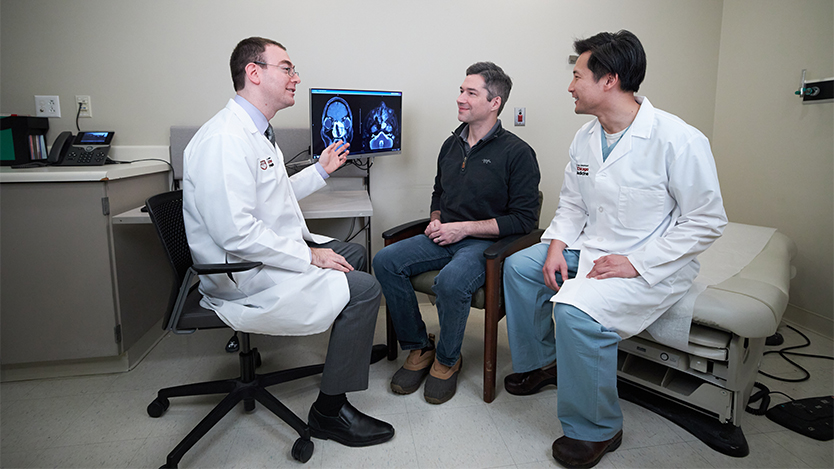 For patients who are diagnosed with skull base tumors, it's important to find a team with the right experience and skill to manage and treat these challenging diseases. At the University of Chicago Medicine, we bring experts from many specialties together to provide a comprehensive, personalized treatment plan for your skull base tumor.
What are skull base tumors?
Skull base tumors occur under and around the brain and often involve the nose, sinuses, eyes, face, ears and neck. The reason these tumors and other skull base conditions require special care is because this area is packed with critical structures. The nerves, arteries, veins and the spinal cord all pass through openings in the skull base. These structures control our ability to see, smell, taste and hear. Arteries and veins supply nutrients to our brain, while the pituitary gland (at the brain's base) controls glands such as the thyroid. Several nerves and the spinal cord transmit the brain's impulses into our movements and actions.
What are the symptoms of a skull base tumor?
Depending on the type and location of the tumor, patients may experience a variety of symptoms. Symptoms may include blurred vision or blindness in one or both eyes, double vision, loss of smell, loss of hearing, dizziness, imbalance, facial numbness, nasal congestion and nosebleeds.
What are the causes and risks of skull base tumors?
There is not a definite cause of skull base tumors, but certain genetic conditions, exposure to dangerous chemicals and radiation treatments are risk factors for developing them. Most skull base tumors grow slowly and are not cancerous, but they can cause symptoms by pushing on important nerves, blood vessels or the brain. However, there are some skull base tumors that are cancerous, and they typically grow quickly.
Why choose UChicago Medicine for skull base tumor treatment?
Our skull base tumor team is made up of experts from several specialties, including neurosurgeons, otolaryngologists (ENTs), radiation oncologists, medical oncologists, neuro-oncologists, endocrinologists and ophthalmologists who work together to diagnose and treat all types of skull base tumors.
Our physicians are at the forefront of advanced surgical care for both benign and cancerous skull base conditions. UChicago Medicine offers minimally invasive, endoscopic and open surgical approaches using the most advanced operating room technologies, such as image guidance navigation, which allows surgeons to use patient imaging like CT and MRI scans during surgery to precisely target tumors
UChicago Medicine offers several leading-edge clinical trials that test novel therapies for patients with skull base tumors.
Our multidisciplinary skull base tumor team is experienced in treating patients with complex conditions of the skull base and additional high-risk diseases, such as diabetes and heart disease.
Skull base tumor physicians at UChicago Medicine are part of the only institution in Chicago to earn 17 consecutive 'A' grades in hospital safety from the Leapfrog Group.
With physicians skilled and experienced in treating patients with very rare types of skull base tumors, UChicago Medicine is a referral center for a number of hospitals and physicians seeking expert care
Find a Skull Base Tumor Location Near You
Request an Appointment
The information you provide in this form will enable us to assist you as efficiently as possible. A representative will contact you within one to two business days to help you schedule an appointment.
For your convenience, you can make a virtual visit appointment with a cancer expert in the following ways:
– Scheduling a virtual video visit to see a provider from the comfort of your home
– Requesting an online second opinion from our specialists
To speak to someone directly, please call 1-888-824-2022. If you have symptoms of an urgent nature, please call your doctor or go to the emergency room immediately.