Ear, Nose and Throat Care With a Personal Touch
Our internationally recognized specialists offer the most innovative treatments for ear, nose and throat (ENT) disorders. We are dedicated to providing exceptional care that underscores our passion for our work and dedication to our patients. Our commitment is to meet the needs of each patient and their loved ones by delivering advanced and personal care. We strive to get to know each of our patients — beyond their test results — and provide individualized, compassionate care.
Services & Treatments We Offer
Every day, our ear, nose and throat (ENT) team at University of Chicago Medicine helps patients with chronic, complex and rare head and neck conditions, including those that affect hearing, smelling, breathing, swallowing, tasting, and speaking. We offer comprehensive testing to accurately determine the underlying problem, as well as the latest medical and surgical treatments.
Telemedicine at UChicago Medicine

Schedule a Video Visit
For your convenience and safety, we offer secure and easy virtual visits for most non-urgent visit types. Our care providers can assess your symptoms, make a diagnosis, recommend treatment and send prescriptions to your pharmacy.

Get a Second Opinion Online
Whether you are facing a complex health issue or difficult treatment decision, getting a second opinion can help you make an informed decision about your care. Get an online second opinion from one of our experts without having to leave home.

Submit an E-Visit
Complete an online questionnaire (e-visit) through your MyChart account to get a same-day diagnosis and a treatment plan from UChicago Medicine clinicians for common conditions.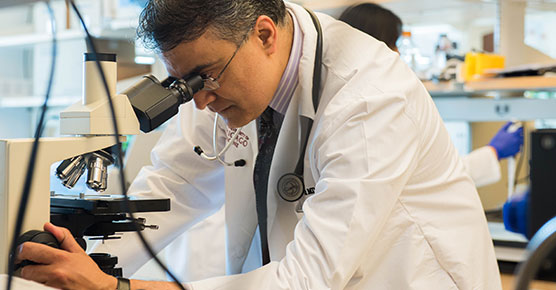 Clinical Trials
We're committed to advancing discoveries that transform our patients' lives and expand our physicians' knowledge. We perform more clinical trials than any other hospital in Illinois. Let us help you find the one that's right for you.
Why Choose UChicago Medicine for Otolaryngology (ENT) Care
We are devoted to the advancement of knowledge in otolaryngology (ENT), and continue to make outstanding contributions to the field. Our research goal is to bring the scientific brilliance and clinical skills of our faculty directly to the bedside to improve patient outcomes. We conduct a broad range of research in areas such as allergies, chronic nasal and sinus disorders, head/neck cancers, cochlear implants, health disparities, airway problems and pediatric otolaryngology.
Through our comprehensive research efforts, we aim to develop and improve treatments for these diseases and disorders, and ultimately, improve the quality of life for our patients.
Close Dialog
Thorough Diagnostics
We believe in conducting an extensive diagnostic process to fully understand each patient's problem and its causes. With clearer insight into the patient's condition, we recommend targeted treatments that can be more effective.
Innovative Treatments
Our team uses innovative techniques that address the patient's disorder yet minimize unpleasant side effects or complications.
Access to Clinical Trials
Our patients have access to clinical trials, including trials for treating allergy and sinus disorders, as well as cancers of the head and neck.
Multidisciplinary Staff
Our staff includes board-certified physicians who have earned national and international recognition among their peers. Working as a team, our physicians, fellows, residents, masters-degreed audiologists, masters and doctoral level speech-language pathologists, nurse specialists and research faculty bring together a wide range of expertise that enhances patient care.
A Respected Reputation
Because of our reputation, patients from across the United States come to University of Chicago Medicine for ENT consultations and treatment.
Destination UChicago
At Destination UChicago Medicine, we know how overwhelming traveling for health care can be and we take pride in helping our patients and family members on their journey. If you are coming to UChicago Medicine from within the United States, our dedicated team of professional, compassionate and respectful navigators can assist you.
Request an Appointment
The information you provide will enable us to assist you as efficiently as possible. A representative will contact you within one to two business days to help you schedule an appointment.
You can also make an appointment with our providers by:
– Scheduling a virtual video visit to see a provider from the comfort of your home
– Requesting an online second opinion from our specialists
– Filling out an online questionnaire (e-visit) to get a same-day diagnosis and treatment for common conditions.
To speak to someone directly, please call 1-773-702-1865. If you have symptoms of an urgent nature, please call your doctor or go to the emergency room immediately.
Read More About Otolaryngology