At UChicago Medicine Comprehensive Cancer Center, our survival rates for tongue and other mouth cancers are among the best in the world. Most of our patients are able to beat cancer while preserving their ability to taste, chew, swallow and talk.

We have been able to achieve these outstanding outcomes because of the personalized treatment approach we use for mouth cancer, also known as oral or oral cavity cancer. Our goal is to cure your cancer, while aiming to preserve your ability to taste, chew, speak and swallow.

To achieve these goals, our internationally esteemed head and neck cancer specialists, believe in a team approach to mouth cancer that considers all possible treatments. This means that all of our experienced cancer specialists—medical oncologists, radiation oncologists, head and neck surgical oncologists, speech pathologists and others—will be involved in your case, combining their deep expertise to determine how to best treat the cancer.
Cancer can strike the mouth, or oral cavity, in the following places:
The front two-thirds of the tongue
Lips
Gums
The floor of the mouth underneath the tongue
The hard roof of the mouth
The inside of the cheeks (also known as the buccal mucosa)
The space behind the wisdom teeth (also called the retromolar trigone)

Cancers that affect the back (or base) of the tongue, tonsils and other areas of the throat are classified as throat or oropharyngeal cancers.

Most mouth cancers are squamous cell cancers, which grow in the thin, flat squamous cells of the mouth. Risk factors for mouth cancer include tobacco and alcohol use and sun exposure (for lip cancer).
Typically, mouth cancer is suspected when patients or their dentists notice symptoms such as the following:
A sore that does not heal
White or red patches
Persistent and unexplained pain, numbness or bleeding
Swelling
Diagnosis often requires a biopsy, or removal of a tiny part of abnormal tissue. This allows UChicago Medicine pathologists, who specialize in head and neck cancers, to provide a very specific diagnosis. For instance, using advanced laboratory tests, they can determine if your cancer is tied to specific genetic mutations. Other tests may also be needed for diagnosis, such as CT, MRI, and/or PET scans.
At UChicago Medicine, we treat a significant number of patients with mouth cancers, including complex cases, such as recurrent mouth cancers. You and your family will likely meet with medical oncologists, radiation oncologists, head and neck surgical oncologists, speech pathologists and others. Together, our team determines how to best cure your cancer with the fewest side effects, while aiming to preserve your ability to taste, chew, speak and swallow.

Your care plan will involve one or more of the following treatments:
Surgery
Radiation therapy
Chemotherapy, or cancer-killing drugs
Other drug therapies, such as immunotherapy
We are also always exploring novel treatments. At UChicago Medicine, we offer more clinical trials for patients with head and neck cancer than any other hospital in the Chicago area.

Below is a broad overview of how we typically treat early-stage and advanced mouth cancer. However, every patient's treatment plan is personalized to reflect their particular cancer diagnosis and their treatment preferences.
Early-Stage Cancer
For early-stage mouth cancer that only affects a small area of the mouth, surgery may be the best treatment choice for ensuring favorable functional outcomes, or the ability to taste, chew, speak and swallow.
Our highly experienced head and neck surgeons take a thoughtful and judicious approach to surgery. We only remove tissue that has cancer in it as well as a small area of tissue around the cancer (margin) to ensure we do not leave any microscopic cancer cells behind. Our surgeons are also highly experienced in facial and oral cavity reconstruction to restore speech and swallowing function following removal of cancers.
Advanced Stage Cancers
Patients with advanced stage tongue and other mouth cancers are often told that surgery is the first and only treatment choice. About 20 years ago, our team of head and neck cancer specialists asked if there was a way to treat very advanced stage mouth cancer that would also ensure the best possibly function and quality of life for our patients. We decided to challenge the traditional surgery-first approach.

We began giving patients chemotherapy and radiation therapy first, prior to any surgery. We soon discovered that this nonsurgical approach works well in many of our patients with advanced oral cavity and throat cancer. (Read about our results.) This approach often eliminates the need for surgery, or significantly reduces the amount of tissue that needs to be removed surgically.

Our highly experienced medical oncologists and radiation oncologists know how to reduce side effects as much as possible during treatment, by using effective drugs and pinpointing the amount of radiation truly needed to treat the cancer (and no more). In addition, radiation can be targeted at the precise location of the tumor, versus a larger area of the mouth. This helps reduce any damage to surrounding tissues.
At UChicago Medicine, our speech pathologists, nutritionists and other rehabilitation team members get involved in your care from the very beginning. This can help reduce treatment side effects. For instance, by evaluation of swallowing at the time of diagnosis, the speech pathologists take a proactive role to maintain the highest level of function and safety with individualized care plans. Early evaluation allows the speech pathologists to identify any potential speech and swallowing problems that you may develop during or after treatment, and provide ways to prevent or lessen these issues with the focus on function and quality of life.

In addition, our dedicated supportive oncology program provides a range of supportive care services to patients and their families, including mental health counseling, social work services and more.

If you smoke, it is important that you stop smoking during and after treatment for mouth cancer. UChicago Medicine's No Smoker Left Behind program can provide you with the support you need to stop the habit.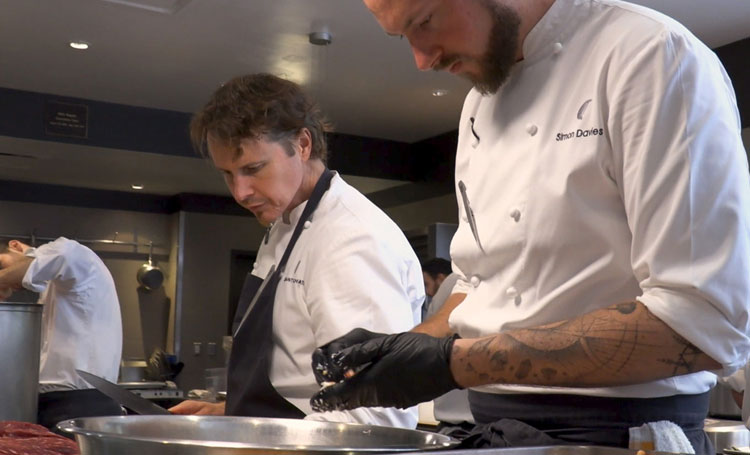 Convenient Locations for Cancer Care
Request an Appointment
The information you provide on this secure form to request an appointment with a UChicago Medicine head and neck cancer expert will enable us to assist you as efficiently as possible. A representative will contact you within one to two business days to help you schedule an appointment.
You can also make an appointment with our providers by:
– Scheduling a virtual video visit to see a provider from the comfort of your home
– Newly diagnosed patients can schedule a 15-minute introductory Express Expert Cancer Opinion virtual session at no cost
– Requesting an online second opinion from our specialists
To speak to someone directly, please call 1-855-702-8222. If you have symptoms of an urgent nature, please call your doctor or go to the emergency room immediately.
For Referring Physicians
To refer a patient for head and neck cancer care, please call UCM Physician Connect at 1-800-824-2282.
Head & Neck Cancer Articles