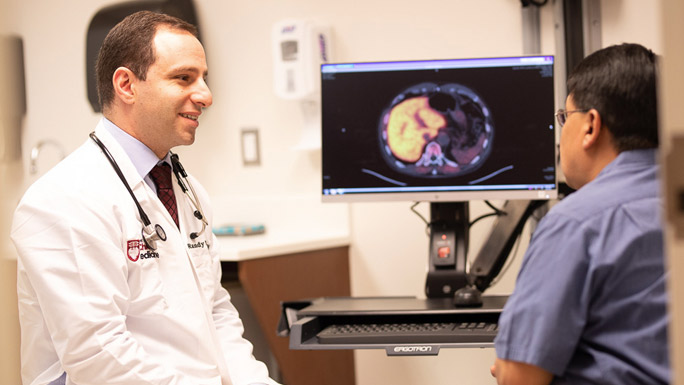 Obtaining a second opinion when you've been diagnosed with cancer is a very common practice. Seeking the opinion of an expert in cancer care can ease your mind and help you feel more secure in the decisions you are making. At the University of Chicago Medicine Comprehensive Cancer Center, we welcome patients who seek second opinions for cancer care, and offer both on-site and remote second opinions. Internationally known pathologists are available to provide advanced pathology analysis to help confirm diagnoses and to pinpoint tumor subtypes.
Our expert teams focus on certain cancer diagnoses and work side-by-side to select the best treatment plan for each patient. In addition to recommending standard therapies, our physicians may also offer innovative treatment options not widely available at most hospitals, including clinical trials. For patients who may have a hereditary form of cancer, we offer Illinois' longest-running Cancer Risk and Prevention Clinic that provides comprehensive evaluation, prevention and risk reduction for patients and families at high risk for primary or recurrent cancers.
Request a Second Opinion for Cancer Care:
Second Opinions (Adults)
For stem cell transplant, please call 1-773-702-1994.
For all other cancer appointments, please call: 1-855-702-8222.
You may also complete an online appointment request form and we'll respond to schedule an appointment.
Second Opinions (Pediatrics)
Learn more about pediatric cancer second opinions.
Get an Online Second Opinion
Access the expertise of our specialists without having to leave home through our online remote second opinion service. This service is available for both adult and pediatric patients.
Pathology Requests
Clinicians: To send a specimen and to order a test from UChicago Medicine Medical Laboratories:
Patients: Call our pathology customer service line at 1-833-UCM-LABS.
Convenient Locations for Cancer Care