As a result of ground-breaking research being conducted here at the UChicago Medicine Comprehensive Cancer Center, our survival rates for tonsil, larynx (voice box) and other throat cancers are among the best in the nation/world. We also place a major emphasis on quality of life and are refining less invasive approaches for treating throat cancers. Many of our patients are able to preserve or regain much of their ability to swallow, talk and eat.
Types of Throat Cancer
Treatment for throat cancer depends on a number of factors, including the following:
Tumor location: Where in the throat is the cancer located?
The throat has two sections: the pharynx and the larynx:
Larynx: This is the voice box.
Pharynx: This is the tube that runs from the back of the nose and mouth to the windpipe. It has three parts:
The oropharynx: The oropharynx includes the back (base) of the tongue, tonsils, sides of the throat and soft palette at the back of the mouth. Most cancers of the pharynx occur in the oropharynx. They are sometimes called oropharyngeal cancers.
The hypopharynx: This part of the pharynx runs from the very back of mouth to the esophagus.
The nasopharynx: This is the tube that connects the nose and mouth to the throat.
HPV status: Is the cancer caused by the human papillomavirus (HPV)?
The HPV virus causes approximately 70% of cancers that develop in the oropharynx, or the back of the tongue, tonsils, sides of throat and soft palette at the back of the mouth. Other causes include tobacco and heavy alcohol use.
Our expert head and neck cancer specialists developed a less-invasive approach to successfully treat HPV-associated oropharyngeal cancer. We call the approach "de-escalation treatment" because the goal is to reduce the intensity of radiation required, which can cause a lot of side effects, including difficulty eating and swallowing.
First we use chemotherapy to shrink the tumor, followed by surgery (when necessary) and very targeted radiation that lowers the amount of radiation used by as much 40%. Our two-year survival rate of ~95% surpasses the national average. (Learn more about HPV-related treatment.)
When cancer is not caused by HPV, we also aim to limit the intensity of treatment as much as possible, while still meeting our primary goal of curing your cancer.
Cancer stage: Is the cancer localized or has it spread?
Treatment will also depend on how advanced your throat cancer is and whether it has spread past the throat and lymph nodes in the neck.
Diagnosis, Treatment and Supportive Care
Throat cancer may be suspected if you have unexplained symptoms that don't go away, such as:

Trouble swallowing

A sore throat

Changes in your voice

A lump in your neck

Difficulty moving your tongue
Diagnosis may involve a variety of imaging and laboratory tests. A biopsy, or removal of a small piece of tissue, may be needed to determine the exact type of throat cancer you have, as well as any unique tumor characteristics and biology. These results will help guide your treatment.
One of the reasons why UChicago Medicine is considered an innovator in head and neck cancer treatment is because of the team approach we use to plan a patient's care. During your initial consultation with us, you will meet with three head and neck cancer physician specialists, often during the same appointment: a medical oncologist, surgical oncologist and radiation oncologist.

In addition, at weekly multidisciplinary meetings, every clinician involved in head and neck cancer care—including pathologists, nurse practitioners, speech pathologists, nutritionists and others—meet to discuss each patient's care.

By combining our expertise, we can better determine the best way to attack your cancer while reducing side effects and preserving your ability to eat, swallow and speak. We also take into account your own treatment preferences and goals, as well as results of your diagnostic tests.

The result is a personalized care plan that may include some or all of the following treatments:

Minimally invasive surgery: UChicago Medicine is one of only a few medical centers in the Chicago area to use an innovative robotic surgery approach for head and neck cancers called transoral robotic surgery (TORS). By using robotic instruments to operate, our surgical oncologists are able to perform intricate procedures through the mouth to remove tumors on the base of the tongue, tonsils and other areas of the throat. This prevents the need for an incision in the neck, resulting in a quicker recovery time and less injury to a patient's throat than traditional surgery.

Our expert reconstructive surgeons will get involved in your treatment if you need any parts of your throat repaired or replaced or to help preserve your appearance.

Drug therapies: Many throat cancers, especially those caused by HPV, respond well to chemotherapy. Certain patients with throat cancer may also benefit from other types of drugs. For instance, we have found that immunotherapy, which helps the immune system fight cancer, can improve survival in some throat cancer patients while reducing treatment-related side effects. We may also prescribe targeted drug therapies to some patients. These drugs help block certain proteins in the body that help cancer spread.

At UChicago Medicine, we have a large number of clinical trials going on to test various drug therapies and treatment combinations. Thus, our patients have access to the latest treatments, and also benefit first-hand from what we learn during our research.

Radiation therapy: Our experienced radiation oncologists aim to give the smallest possible dose of radiation to the smallest possible area of the throat—while also ensuring that they are killing any cancer cells that may remain after surgery and/or chemotherapy. As a result of this approach, our throat cancer patients rarely need feeding tubes to help them eat and swallow during or after treatment.
Throat cancer, as well as treatment for throat cancer, can potentially harm a patient's ability to talk, eat and swallow. Our dedicated speech pathologists create a relationship with the patient at the time of diagnosis and help patients preserve and regain these functions. Early evaluation identifies problems, and provides the speech pathologist with information to develop an individualized care plan. This proactive approach helps patients maintain function during treatment and optimize recovery after treatment is completed.

Our patients often begin working with a speech pathologist at the start of treatment. They learn and practice various exercises to help maintain the best swallowing and speech function, and continue to be monitored by the speech pathologist during treatment to ensure safe and effective swallowing function and the best quality of life.

Our patients have access to many other supportive staff, including:
Nurse practitioners who will help you navigate your cancer treatment

Nutritionists to help maintain a healthy diet

Pain control experts

A dedicated supportive oncology program that provides a range of supportive care services to patients and their families, including mental health counseling, social work services and more
Convenient Locations for Cancer Care
Request an Appointment
The information you provide on this secure form to request an appointment with a UChicago Medicine head and neck cancer expert will enable us to assist you as efficiently as possible. A representative will contact you within one to two business days to help you schedule an appointment.
You can also make an appointment with our providers by:
– Scheduling a virtual video visit to see a provider from the comfort of your home
– Newly diagnosed patients can schedule a 15-minute introductory Express Expert Cancer Opinion virtual session at no cost
– Requesting an online second opinion from our specialists
To speak to someone directly, please call 1-855-702-8222. If you have symptoms of an urgent nature, please call your doctor or go to the emergency room immediately.
For Referring Physicians
To refer a patient for head and neck cancer care, please call UCM Physician Connect at 1-800-824-2282.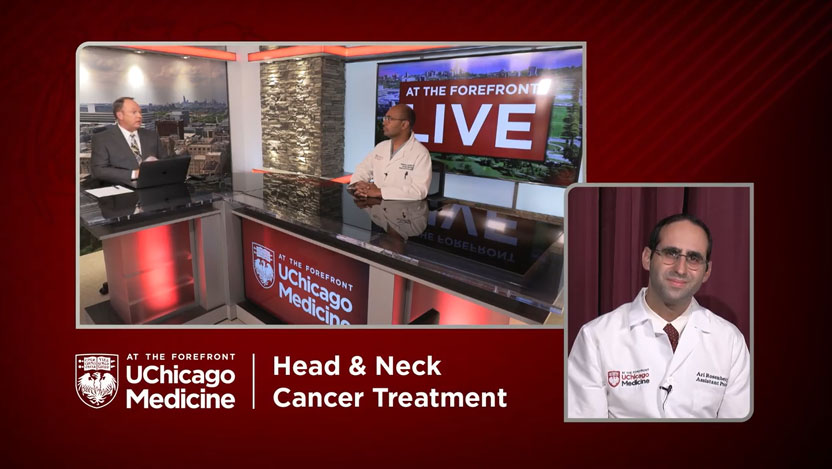 Head & Neck Cancer Articles