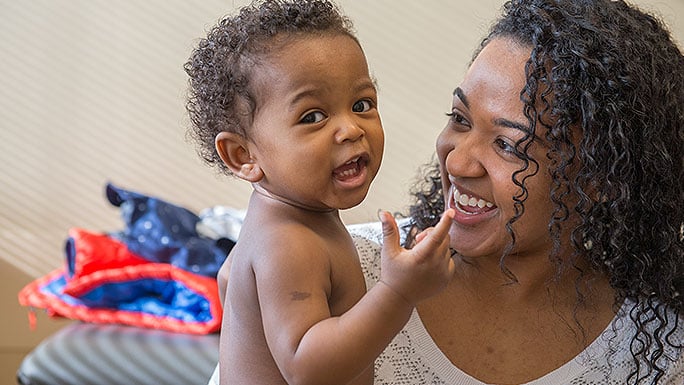 Pediatric Primary Care in Chicago
We understand that pediatric care means more than treating a sick child — it means providing answers and guidance throughout your child's growth. That's why we strive to build lasting relationships with parents so they can raise safe, healthy kids. Our pediatric primary care physicians will take the time to provide you with the information you need to make treatment decisions and better understand your child's medical condition.
Our pediatric primary care experts, including pediatricians and family medicine doctors, provide the full spectrum of outpatient primary care services to infants, children and adolescents throughout Chicago and northwest Indiana.
Comprehensive primary care is designed to keep your child healthy, now and in the future. General pediatric care services include:
Well-baby and well-child care
Immunizations
Nutrition counseling
Care for illnesses, such as flu and RSV
Injury prevention and counseling
Health screening and disease prevention
In addition, our child health experts can work with your family on important medical and social issues, such as:
Problems at school
Family and parenting problems
Why Choose Us for Pediatric Primary Care?
Our Chicago pediatric primary care experts are dedicated to advancing the care of children and promoting healthy families. Several of our pediatricians have been named among the area's best doctors by Chicago magazine.
Our pediatric clinics provide convenient access to primary care as well as day, evening and weekend hours to meet the needs of parents throughout the Chicago area and Northwest Indiana. These clinics provide comfortable waiting areas for parents and kids of all ages, with dedicated play areas for young patients and siblings.
If your child has a more complex chronic condition, our pediatric primary care physicians can help manage it over the long term. We provide a comprehensive array of inpatient and outpatient services for children with chronic conditions such as developmental problems, infectious diseases, diabetes, obesity and asthma.
Referrals to specialty and tertiary care services are also available for children with complex medical needs. We can connect you with the more than 20 specialties and surgical programs available through Comer Children's.
Besides providing high-level clinical services, many Comer Children's pediatric primary care experts are involved in pediatric research. Recent initiatives have focused on improved playground safety and vehicle safety, as well as obesity, nutrition, asthma and immunizations.
Doctors are also actively engaged in tracking the growing epidemic of obesity in young people. One University of Chicago physician is studying how pediatricians across the country are diagnosing and managing childhood obesity.
Where Should I Go for Care Today?
You never know when a sudden injury or illness may happen. That's why it's so important to be prepared and know what steps you can take as soon as symptoms appear. Click below to learn more about the best times to visit primary care, urgent care or the emergency department.
Academic Pediatrics at Comer Children's
Academic Pediatrics is a community of child health professionals engaged in research, advocacy, improvement science and educational scholarship to enhance the health and well-being of all children.
Pediatric Articles & News