Protect Yourself and Others from the Flu
Getting a flu shot, is the best way to lower the risk of influenza (the flu). The flu vaccine also lowers the risk of spreading the virus to family members, friends and people you work with. To protect yourself and others from getting the flu, it is best to get vaccinated in early fall before flu season begins.
Flu Clinic Locations and Hours
The University of Chicago Medicine offers flu shots for our existing patients at several convenient locations on the South Side and in the south suburbs.
Locations and hours will be announced closer to the start of the 2021-2022 flu season.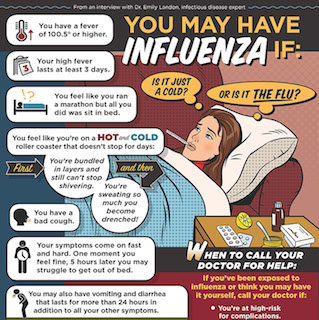 Prepare Yourself for Flu Season
Catching the flu can mean days or even weeks of misery. But there is good news: preventing the spread of flu, or minimizing its severity, is relatively simple.
Read more about flu prevention