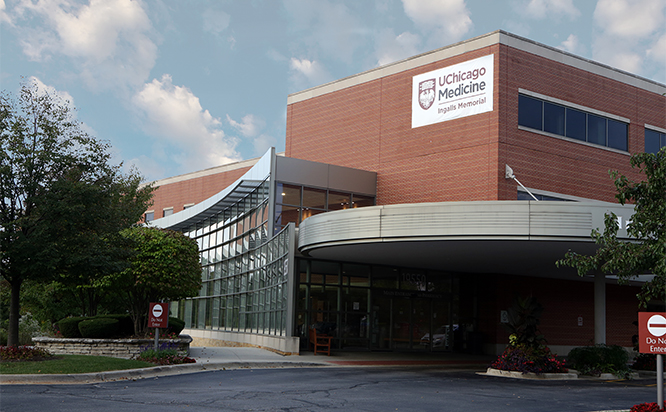 UChicago Medicine at Ingalls - Flossmoor offers quick and convenient specialty and primary care for the whole family. Our teams care for children, teens, adults and senior citizens who need annual wellness exams, school physicals, immunizations, injury treatment or help managing chronic illnesses, including diabetes.
Our primary care physicians, pediatricians and specialists are ready to help with any medical issues that arise. We also provide on-site lab testing, X-rays, mammography, lung cancer screening, rehabilitation services, and echo and stress testing.
Virtual Care at UChicago Medicine Ingalls Memorial
We now offer a virtual visit option, which means you may call your provider directly to discuss your basic care needs, or to complete a primary care or wellness visit. This safe and efficient option allows your provider to diagnose, treat, and prescribe medications over the phone. Please note that virtual visits are now covered by all medical insurance plans.
If you would like to schedule a virtual visit with your provider, please call 855-826-3878.
Stay up-to-date on the latest COVID-19 visitor restrictions and guidelines.
Primary care physicians and pediatricians close to home at Flossmoor
We offer extensive adult and pediatric primary care services to ensure that you and your family stay healthy, now and in the future.
Find a primary care doctor or pediatrician near you
View Our Flossmoor Virtual Tour
To directly contact specific areas:
Internal and Family Medicine

Suite 2000: 708-915-3100
Endocrinology and Nephrology Suite 3000: 708-915-3100
Neurology Suite 2650: 773-702-6222

Obstetrics and Gynecology

Suite 3800: 773-702-1465
Orthopaedics Suite 1400: 708-647-7565
Otolaryngology (ENT) Suite 2200: 708-798-0200
Pediatrics Suite 2500 (Child Life Center): 708-799-7600
Urgent Aid at Flossmoor (19550 Governors Hwy., Flossmoor, IL 60422)
Our 24-hour walk-in urgent aid center addresses the need for fast, efficient, quality lower-level emergency care in the South Suburbs — seven days a week. Learn more about our urgent aid centers in Flossmoor, Tinley Park and Calumet City
Free parking is available on site.
Free valet parking is available at the main entrance Monday through Friday from 8 a.m. to 4:30 p.m.
Aetna POS
Aetna HMO (specialists only)
Aetna PPO
BCBS Blue Precision HMO (specialists only)
BCBS HMO (HMOI) (specialists only)
BCBS PPO
Cigna HMO
Cigna POS
Cigna PPO
CountyCare *see insurance page
Coventry Health Plan PPO
Great West PPO
Medicare
Aetna Better Health *see insurance page
Multiplan PPO
PHCS PPO
United Options (PPO)
United Choice Plus POS/PPO
United Select (HMO & EPO) (specialists only)
United W500 Emergent Wrap