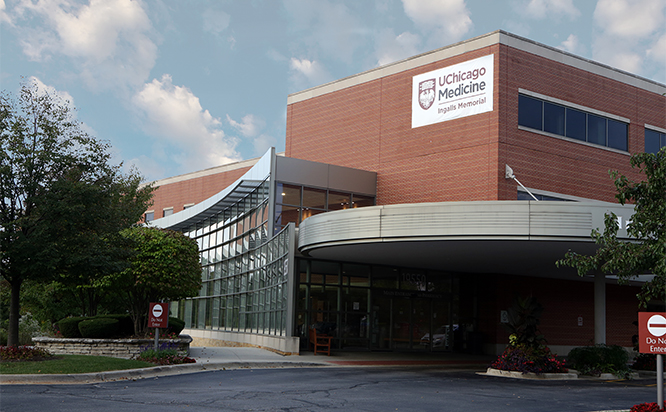 Virtual Care at UChicago Medicine Ingalls Memorial
We now offer a virtual visit option, which means you may call your provider directly to discuss your basic care needs, or to complete a primary care or wellness visit. This safe and efficient option allows your provider to diagnose, treat, and prescribe medications over the phone. Please note that virtual visits are now covered by all medical insurance plans.
If you would like to schedule a virtual visit with your provider, please call 855-826-3878.
PLEASE NOTE: To protect patients, staff and the community, patients at all UChicago Medicine Ingalls Memorial outpatient and urgent aid centers may have only one person with them who is providing transportation and assistance. Additionally, no visitors are being allowed at Ingalls Memorial Hospital.
UChicago Medicine at Ingalls - Flossmoor offers quick and convenient specialty and primary care for the whole family. Our teams care for children, teens, adults and senior citizens who need annual wellness exams, school physicals, immunizations, injury treatment or help managing chronic illnesses, including diabetes. We also provide on-site lab testing, X-rays, mammography, lung cancer screening, rehabilitation services, and echo and stress testing.
To directly contact specific areas:
Family Medicine, Endocrinology and Nephrology

Suite 2000: 708-957-8750

Family Medicine

Suite 3000: 773-834-4925
Orthopaedics: 708-647-7565
Otolaryngology (ENT) Suite 2350: 708-798-0200
Pediatrics Suite 2500 (Child Life Center): 708-799-7600
Our 24-hour walk-in urgent aid center addresses the need for fast, efficient, quality lower-level emergency care in the South Suburbs — seven days a week.
Book an Appointment Online (powered by InQuicker)
UChicago Medicine at Ingalls - Flossmoor offers the convenience of online booking for the services below as well as Urgent Aid, Primary Care and other specialty services. For additional services you can access our online scheduling system or fill out our Request an Appointment form.
Emergency Room
19550 Governors Highway
Flossmoor, IL
To see all appointment times, view our full schedule:
Occupational Health
19550 Governors Highway
Flossmoor, IL
To see all appointment times, view our full schedule: