Is lung cancer screening right for you?
Is lung cancer screening right for you? Lung cancer does not cause symptoms in its early stages. By the time a patient experiences symptoms, the cancer may be advanced and difficult to cure.
The good news is scientific evidence shows that lung cancer screening can help. With screening, lung cancer can be diagnosed at an early stage when it's more curable. Lung cancer screening involves a low dose computed tomography, or LDCT scan of a patient's chest to make detailed pictures of the lungs. Radiologists examine the images for abnormalities that could indicate cancer.
The exam is painless, non-invasive, and only takes a few minutes. LDCT screening is recommended for patients who have an increased risk of developing lung cancer, but who are still in reasonably good health. You must meet certain criteria to be considered for lung cancer screening.
There are some minor risks associated with LDCT screening. For example, not all nodules are lung cancer, and there may be a need for additional tests and procedures. This can cause anxiety for some patients. Discuss the risks and benefits of LDCT with your doctor.
If an abnormality is found on your lung, your doctor may recommend additional tests or schedule a follow-up scan. If your screening shows you may have cancer, our multidisciplinary lung cancer team works together to determine which treatments will be most effective for you. Even if your screening is normal, you should still stop smoking.
The best way to reduce your risk of developing lung cancer is to quit smoking. Our Courage to Quit smoking cessation program can assist you in taking the right steps toward a smoke-free life. Lung cancer screening can save your life. UChicago Medicine offers lung cancer screening in several locations. Want more information about lung cancer screening? UChicago Medicine is here to help.
Lung cancer is the leading cause of cancer-related deaths in both men and women in the United States. Often, lung cancer will have no symptoms, and by the time patients show signs of the disease, the cancer has progressed to an advanced stage. Proactive measures, such as lung cancer screening, can help diagnose lung cancer in its earlier stages and improve outcomes for patients.
The University of Chicago Medicine lung cancer prevention and treatment team is a collaboration of specialists from oncology, pulmonology, radiology, surgery, pathology and more. These experts work closely together to diagnose and treat each patient. Our goal is to provide the highest level of patient care at every stage of treatment, which includes offering lung cancer screening to qualified patients.
Schedule a lung cancer screening at 773-702-2290 or complete the appointment request form below.
We're proud to be designated a Lung Cancer Screening Center by the American College of Radiologists and a GO2 Foundation for Lung Cancer Screening Center of Excellence. These important designations signify that our program has met rigorous quality standards to provide safe and effective lung cancer screening services.
Lung Cancer Screening Finds Cancer Early When Chance of Cure is High
Former long-time smoker Marilyn Nesby,72, was at high risk for developing lung cancer. Fortunately, a screening test called a low-dose CT scan detected cancer at an early stage, before it had spread.
Read Nesby's Story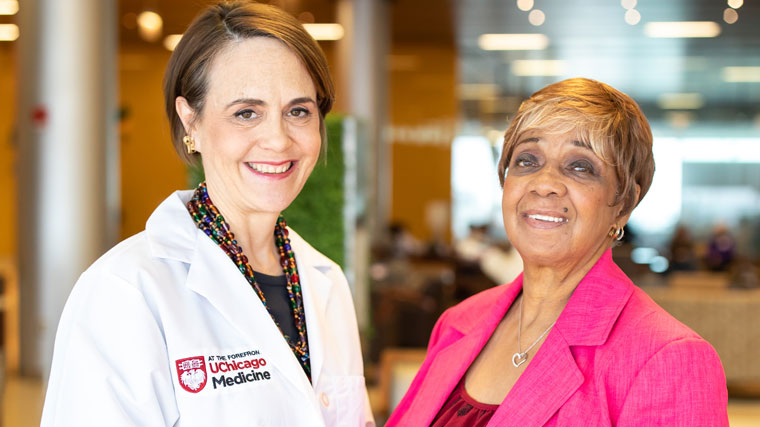 Request an Appointment
The information you provide on this secure form to request an appointment for lung cancer screening at a UChicago Medicine care location will enable us to assist you as efficiently as possible. A representative will contact you within one to two business days to help you schedule an appointment.
You may also make an appointment with our providers by:
– Calling 773-702-2290 to speak with a lung cancer screening scheduler
– Emailing the program at LungCancerScreening@uchicagomedicine.org
If you have symptoms of an urgent nature, please call your doctor or go to the emergency room immediately.
For Referring Physicians
To refer a patient for lung cancer screening, please call 773-702-2290.