Chemotherapy, a medicine that is used to fight cancer, has the advantage of going throughout the body to treat all sites of the disease. It may be used before, with or after other lung cancer treatments, such as surgery or radiation.

Most patients with non-small cell lung cancer receive a combination of immunotherapy and chemotherapy. For patients with small cell cancer (a smaller percentage of people with the disease), chemotherapy is also a mainstay treatment. Chemotherapy can dramatically shrink these fast-growing tumors, sometimes in a matter of weeks. Immunotherapy is also added to chemotherapy in the treatment of small cell lung cancer.
'Neoadjuvant' & 'Adjuvant' Therapy
When chemotherapy is used before surgery or radiation, this is called neoadjuvant therapy. For example, neoadjuvant chemotherapy may be used in patients with non-small cell lung cancer, specifically stage III disease. This type of treatment helps shrink the tumor before surgery or radiation, to increase the likelihood of successful treatment.

For patients with non-small cell lung cancer, chemotherapy is sometimes given after surgery or radiation to help prevent tumor recurrence. The goal is to kill any microscopic cancer cells that may be present in the body and to prevent cancer from returning.

The addition of immunotherapy to chemotherapy is being examined in clinical trials in both the neoadjuvant (before surgery) and adjuvant (after surgery) setting.
Help for Advanced Cancer
If cancer has spread to other parts of the body, such as in stage IV disease, chemotherapy is often added to immunotherapy as an option to prolong survival, reduce pain and other symptoms, and improve a patient's quality of life.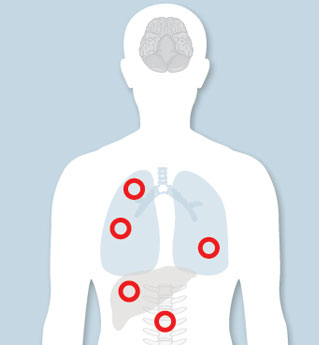 Treating Metastatic Cancer with Optimism and Hope
If you have been diagnosed with metastatic cancer, more therapies may be available to you than you think. Our cancer specialists are eager to help you understand all of your options.
Limited Metastatic Cancer Program
Convenient Locations for Cancer Care
Request an Appointment
The information you provide on this secure form to request an appointment with a UChicago Medicine lung cancer expert will enable us to assist you as efficiently as possible. A representative will contact you within one to two business days to help you schedule an appointment.
You can also make an appointment with our providers by:
– Scheduling a virtual video visit to see a provider from the comfort of your home
– Newly diagnosed patients can schedule a 15-minute introductory Express Expert Cancer Opinion virtual session at no cost
– Requesting an online second opinion from our specialists
To speak to someone directly, please call 1-855-702-8222. If you have symptoms of an urgent nature, please call your doctor or go to the emergency room immediately.
For Referring Physicians
To refer a patient for lung cancer care, please call UCM Physician Connect at 1-800-824-2282.