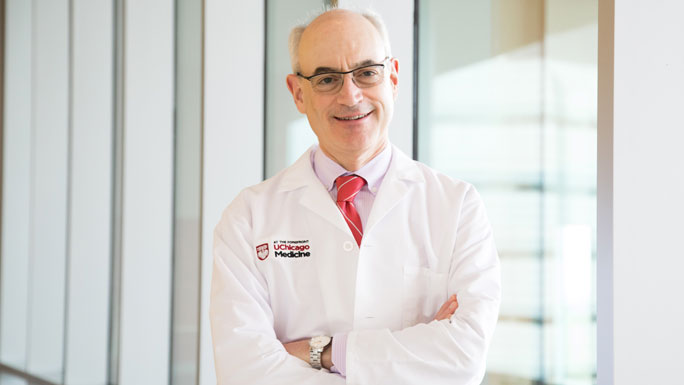 Immunotherapy harnesses the power of the immune system to treat cancer. There are several types of immunotherapy, which work in different ways to treat different types of cancer.
Immune checkpoint inhibitors are used to treat certain non-small cell lung cancers. These drugs block proteins (PD-1 and PD-L1) that cancer cells use to disarm an immune response, enabling disease-fighting T-cells to attack, shrink or destroy tumor cells.
In some cases, checkpoint inhibitors (e.g. pembrolizumab, nivolumab, atezolizumab, durvalumab) are given before, along with, or instead of chemotherapy.

Understanding Lung Cancer
Medical oncologist Christine Bestvina, MD, thoracic surgeon Jessica Donington, MD, and patient Kathy Tentinger joined us for a candid conversation on lung cancer screening, novel lung cancer treatment options and the latest clinical trials offered at UChicago Medicine.
Watch Video
Watch Video With Transcript
Get a Second Opinion
Participate in a Clinical Trial
Courage to Quit Smoking
Request an Appointment
Please complete this secure form to request an appointment with a UChicago Medicine lung cancer expert. A representative will contact you within one to two business days to help you schedule the appointment.
This form is not for same- or next-day appointments. If you prefer to speak with someone directly, please call 1-855-702-8222. If you have symptoms of an urgent nature, please call your doctor or go to an emergency room immediately.
For Referring Physicians
To refer a patient for lung cancer care, please call UCM Physician Connect at 1-800-824-2282.
Lung Cancer Related Articles