Everyone's journey to quit smoking is different, but you don't have to do it alone. The University of Chicago Medicine offers Courage to Quit (CTQ), a group-based, comprehensive approach to smoking cessation. We help patients overcome tobacco addiction and quit smoking for good.
Courage to Quit is a stop-smoking program developed by UChicago Medicine's Andrea King, PhD, in partnership with the Respiratory Health Association (RHA). The program is consistent with proven, evidence-based smoking cessation methods, including behavioral skills, cognitive skills and medication information to help you learn how to quit smoking, reduce tobacco use and lead a healthy lifestyle.

UChicago Medicine's psychiatry and behavioral neuroscience team works in partnership with pulmonary medicine specialists to coordinate the smoking cessation program.
What to Expect
We offer multiple Courage to Quit groups weekly in a rolling group format which allows you to join the program at any time. Groups typically have between four and 10 members and are separated into Phase 1 (beginner) groups and Phase 2 (advanced) groups for Phase 1 graduates. Our goal is to provide support, information, skills, tools, feedback and education to help you quit smoking. You can come to as many meetings as you would like. If you decide that the program is not a good match for you, you will be provided with other smoking cessation resources.
How to Sign Up
If you are in Chicago and would like to be scheduled for the program, you can call our psychiatry intake office directly at 773-702-3858. Alternatively, if you are a patient at UChicago Medicine, you can ask your health care provider to assist you in enrolling for the program.
When:
Groups currently meet via Zoom on:
Mondays: 12 p.m. to 1 p.m.
Thursdays: 11 a.m. to 12 p.m.
Fridays: 11 a.m. to 12 p.m.
Registration is required. Links will be sent once registration is complete.
Who can attend:
Adults 18+ years of age who currently use tobacco (cigarettes, smokeless tobacco, snuff, cigars, e-cigarettes, hookah, etc.) and want to learn more about their smoking and tobacco use and set goals to quit smoking or cut back on their tobacco use.
No-Cost, Confidential Assessment & Referrals
In order to quickly respond to your needs, a trained mental health professional is available 24 hours a day, 7 days a week.
You can make an appointment by calling:
Ingalls Memorial at 708-915-6411
UChicago Medicine at 1-888-824-0200
Our assessment and referral staff assesses each individual to determine his or her behavioral health needs and makes referrals based on those needs.
Courage to Quit helps Englewood woman give up 50+ year smoking habit
Lynn Andrews smoked up to 1 ½ packs of cigarettes daily for 54 years. With help from UChicago Medicine's Courage to Quit program, she has been smoke-free for over a year.
Read Andrews' story
How did a 77-year old woman who smoked for 60 years, quit smoking?
Mary Baim, a smoker for 60 years, didn't think she could stop. Then she joined UChicago Medicine's Courage to Quit program, and hasn't had a cigarette in more than a year.
Read Baim's story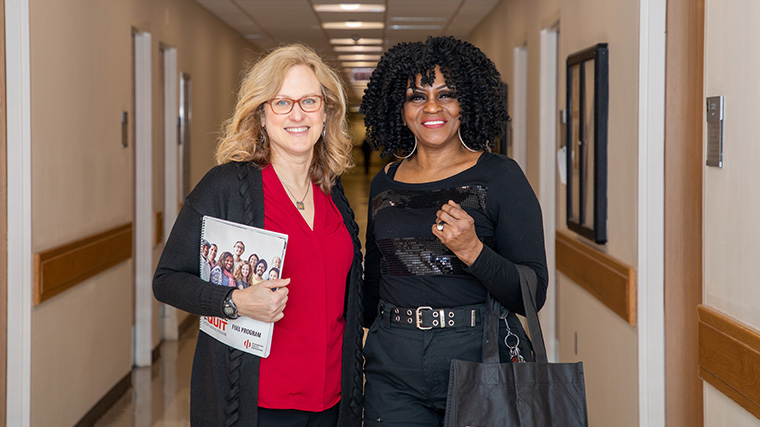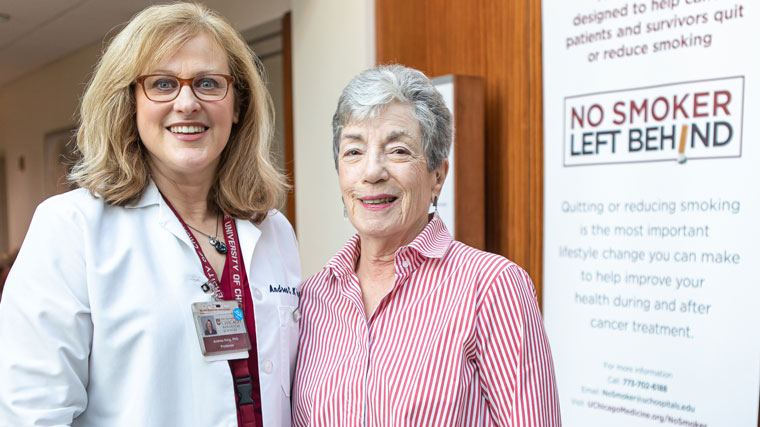 Our Smoking Cessation Locations
Request an Appointment
The information you provide will enable us to assist you as efficiently as possible. A representative will contact you within one to two business days to help you schedule an appointment.
To speak to someone directly, please call 1-888-824-0200. If you have symptoms of an urgent nature, please call your doctor or go to the emergency room immediately.
Read more about psychiatry and psychology