Not everyone diagnosed with lung cancer is a smoker: In fact, up to 20% of lung cancer patients have never smoked before or smoked fewer than 100 cigarettes in their lifetime. At the University of Chicago Medicine Comprehensive Cancer Center, our team of multidisciplinary lung cancer specialists offers state-of-the-art treatments and care for this distinct patient group.
Causes of Non/Never Smoker Lung Cancer
Nonsmoker lung cancer is believed to occur from a genetic mutation that occurs during a person's lifetime. In rare instances, this mutation may be inherited. However, cancer is a complex disease involving the interaction of many factors, and associating a single cause with a tumor does not fully explain why a person develops lung cancer. Aside from a person's genetic susceptibility, several factors are suspected to play a role in developing non-smoker lung cancer, including:
Breathing in someone else's smoke (second-hand smoke)

Exposure to radon, a naturally occurring gas in our environment

Prolonged exposure to specific pollutants, such as asbestos or diesel exhaust
Symptoms for nonsmoker lung cancer are the same as those experienced by smokers with lung cancer. They include:
Breathing problems (coughing, wheezing, shortness of breath, coughing up blood)

Recurring lung infections

Weight loss

Fatigue

Pain
Women are more likely to be diagnosed with this specific cancer than men, and it's not uncommon for this lung cancer to be discovered after it has spread to other parts of the body. This is in part because lung cancer often has no symptoms during the earliest stages. Also, preventative screening is currently not recommended for non/never smokers. At this time, it's believed that the benefits of detecting cancer early do not outweigh the risks of exposing otherwise healthy patients to potentially unnecessary medical procedures and imaging.

Diagnosing Non/Never Smoker Lung Cancer
At UChicago Medicine, advanced diagnostic testing is used to identify and analyze lung cancer. For every patient, doctors have access to:
Cell-free DNA analysis, a minimally-invasive test used to detect genetic material (DNA) shed by your tumor's cancer cells into your blood.

Genetic testing that involves next-generation sequencing of 1,200 genes that may be involved in your cancer.

Endobronchial ultrasound, which involves inserting a thin tube with a camera into the lungs to examine and potentially sample tissue.

Peripheral bronchoscopy, co-designed by UChicago Medicine researchers, that uses a flexible tube with a camera capable of reaching distant areas that were previously unreachable; this allows doctors to obtain enough tissue to accurately diagnose early lung cancer.

I

maging, including dual-energy chest X-rays, CT, PET scans and MRIs.
A multidisciplinary tumor board made up of several specialists will determine the precise type and stage of your cancer. Most nonsmoker lung cancer tumors are non-small cell lung cancer (adenocarcinomas or squamous cell carcinomas), though they can also be small cell lung cancer or other less common types of cancer.


Treatment of Non/Never Smoker Lung Cancer
Our multidisciplinary team of thoracic surgeons, medical oncologists, radiation oncologists, pulmonologists, pathologists, radiologists and interventional radiologists meet weekly to ensure the most effective care for each patient. Diagnostic information is used to create a precise molecular profile of your cancer and a personalized treatment plan.


Depending on the type and stage of the cancer, treatment may involve:
Lung Cancer Clinical Trials
As a leading academic medical center, UChicago Medicine offers lung cancer patients the opportunity to participate in groundbreaking clinical trials, including treatments that may help you to avoid chemotherapy, medications that boost the body's immune system to fight cancer (immunotherapy) and immunotherapy/radiation treatment combinations. Ask your doctor about which clinical trials may be available to you.
Woman runs marathon following minimally invasive lung cancer surgery
With the help of UChicago Medicine's thoracic surgery team, Jennifer L. Rosato Perea, a non-smoker, overcame lung cancer and ran the New York Marathon. She ran the race in under seven hours only months after undergoing surgery to remove cancer from her right lung.
Read Her Story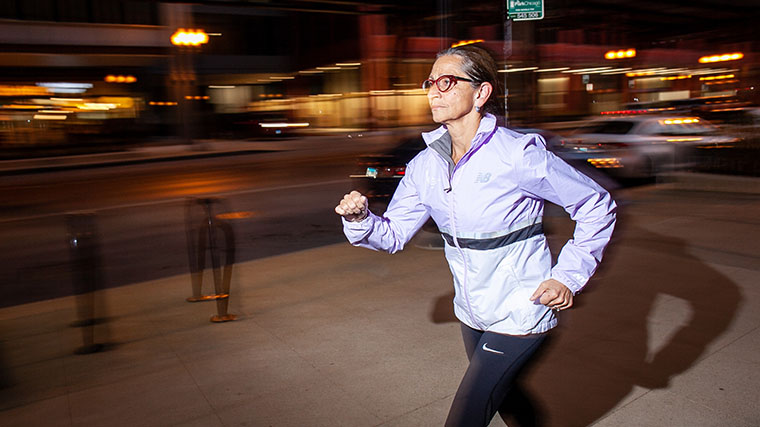 Request an Appointment
The information you provide on this secure form to request an appointment with a UChicago Medicine lung cancer expert will enable us to assist you as efficiently as possible. A representative will contact you within one to two business days to help you schedule an appointment.
You can also make an appointment with our providers by:
– Scheduling a virtual video visit to see a provider from the comfort of your home
– Newly diagnosed patients can schedule a 15-minute introductory Express Expert Cancer Opinion virtual session at no cost
– Requesting an online second opinion from our specialists
To speak to someone directly, please call 1-855-702-8222. If you have symptoms of an urgent nature, please call your doctor or go to the emergency room immediately.
For Referring Physicians
To refer a patient for lung cancer care, please call UCM Physician Connect at 1-800-824-2282.