Skip to content
Thanks to a dramatic response to a clinical trial, patient diagnosed with stage 4 lung cancer shows no evidence of disease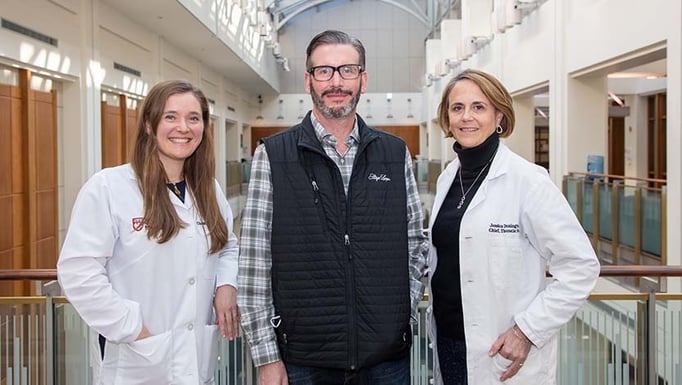 Patient John Polo with oncologist Christine Bestvina, MD, left, and surgeon Jessica Donington, MD.
John Polo still remembers the advice he was given at the start of his journey with cancer.

In the spring of 2019, he and his wife, Jennifer Fulgaro-Polo, were conducting a final walkthrough of a house they were buying when his phone rang.

The doctor on the other end informed him that the fluid buildup recently drained from around his heart was not due to a virus. It was caused by stage 4 lung cancer.

"It was like a dream with the adrenaline of a car accident," said Polo, now 50. "My knees went out and I almost had to sit down on the floor."

At the time, Polo was working in sales for a hotel. He and his wife, a sommelier who works for a distributor and teaches private classes on wine, were stunned. Their daughter was 6 years old.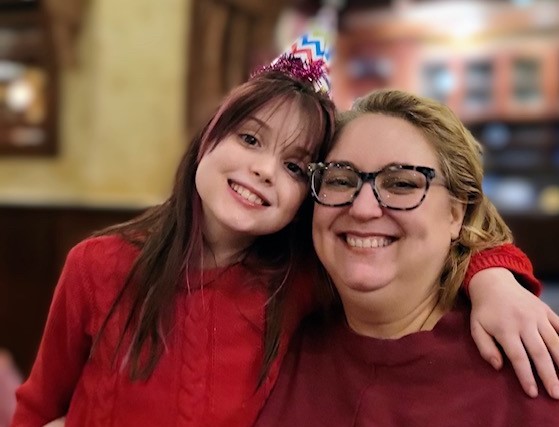 Several weeks later, John and Jennifer discussed treatment options with University of Chicago Medicine research nurse Livia Szeto, BSN, RN. Jennifer, crying, said John's devastating diagnosis convinced them to pull out of buying their first house.

"You know what Livia told us?" recalled Polo. "She said, 'John, there is hope. Live your life. We are not done with you.'"

Polo took that advice. More than three years later, he's happy he did. Thanks to his remarkable response to a clinical trial, doctors can no longer detect cancer in his body.

"My wife and I are trying to get the word out that a stage 4 diagnosis does not equate to an immediate death sentence," said Polo. "It's almost so normal that I can actually go a couple days where I forget that I have cancer."

That wasn't the case back in the spring of 2019. At the time, Polo was unwell. He felt bloated, short of breath, and his heart was constantly pounding. Doctors at a local hospital discovered fluid surrounding his heart, and a biopsy revealed he had advanced lung cancer.

Polo's primary care doctor recommended he seek care at UChicago Medicine, where doctors conducted genetic testing of his cancer. The testing showed Polo was a good candidate for COSINR, a clinical trial at UChicago Medicine. The trial examines the effective timing of immunotherapy and stereotactic body radiotherapy (a type of radiation) in patients with metastatic lung cancer.

"John did not have a targetable mutation, and yet he has still been able to have this dramatic response with no evidence of disease," said thoracic oncologist Christine Bestvina, MD, one of Polo's doctors. "He did have a high PD-L1, however, which is a type of protein that is a marker of response to immunotherapy."

As part of the study, Polo received five sessions of radiation followed by biweekly intravenous infusions of nivolumab and ipilimumab, two immunotherapy cancer medications.
My wife and I are trying to get the word out that a stage 4 diagnosis does not equate to an immediate death sentence. It's almost so normal that I can actually go a couple days where I forget that I have cancer.
Polo said he weathered the treatments well and experienced few side effects. However, in July 2020, he developed an inflammatory reaction to one of the drugs that left him in pain and unable to lay on one side for more than a few minutes. Doctors held off on the therapy for a month and prescribed prednisone, which made him feel better.
"We have a whole team dedicated to managing immune-related adverse events, so it helps us manage toxicity and allows patients to remain on therapy longer," said Bestvina.

As the end of the clinical trial neared, Polo weighed the risks and benefits of continuing immunotherapy with his family and doctors. They decided it was best if he continued to return monthly for an infusion of nivolumab.

"Patients in this clinical trial have done incredibly well on this chemotherapy-free treatment," said Bestvina.

John and his wife did end up buying a house – not a fixer-upper like they'd originally sought out, but a move-in ready one.

"My wife calls it the healing home," Polo said. "When we walked into it, we knew this was the one place to heal and rebuild, and it was."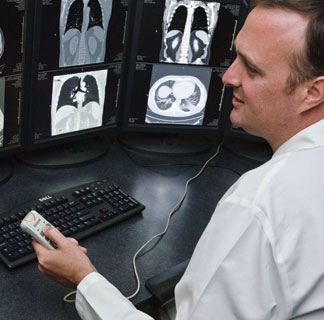 Lung Cancer Care
At UChicago Medicine, we offer a wide range of lung cancer care options, including minimally invasive surgery and innovative targeted therapies, as well as clinical trials of promising treatments not widely available.
Learn more about our lung cancer care.