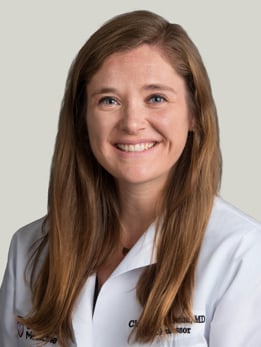 Hematology and Oncology (Cancer) | More
Assistant Professor of Medicine
A clinically integrated network of physicians and providers employed by UChicago Medicine who offer care in inpatient, community, ambulatory, acute care or extended care settings.
Close
855-702-8222
Board-certified thoracic oncologist, Christine Bestvina, MD, specializes in lung cancer, including non-small cell lung cancer, small cell lung cancer, and neuroendocrine carcinomas of the lung. Dr. Bestvina also treats thymic malignancies, which occur when there are cancer cells present in the thymus gland, a small organ under the breastbone.
Along with her clinical work, Dr. Bestvina is an avid researcher. She is investigating treatment options to improve quality of care and outcomes for patients with lung cancer. Dr. Bestvina has also published several papers in respected peer-viewed publications, including Journal of Oncology Practice, the Lancet and Future Oncology.

Understanding Lung Cancer
Medical oncologist Christine Bestvina, MD, thoracic surgeon Jessica Donington, MD, and patient Kathy Tentinger joined us for a candid conversation on lung cancer screening, novel lung cancer treatment options and the latest clinical trials offered at UChicago Medicine.
Watch Video
Watch Video With Transcript