For rare cancers, like those that affect the thymus gland, it's important to seek care from an experienced team of physicians who are aware of the latest research and treatment options and see a high volume of unique cases.

At UChicago Medicine Comprehensive Cancer Center, our Thymoma and Thymic Malignancies Program brings together a team of experts from thoracic surgery, medical oncology, radiation oncology, pathology, neurology and immunology to provide coordinated, thorough care for all types of thymic diseases.

Our Thymoma and Thymic Malignancies Program offers the full spectrum of services for this disease, including:
Sophisticated surgical care, typically using robotic and minimally invasive approaches to effectively remove the tumor through small incisions, resulting in a faster recovery, reduced post-operative pain and minimal scarring
Advanced chemotherapy regimens tailored to your tumor type and stage of disease
Precision radiation therapy that focuses on targeting tumors while sparing healthy tissue
Accurate tumor pathology analysis to pinpoint the exact tumor subtype, a crucial step in informing treatment plans
State-of-the-art imaging technologies to visualize the tumor and surrounding tissues for treatment planning and post-treatment follow-up care
Integrated care with neurologists and rheumatologists/immunologists who play a crucial role in caring for patients with thymic malignancies that have related myasthenia gravis or other autoimmune conditions
Clinical trials of novel treatments that provide the opportunity for unique therapies not widely available at most hospitals
Supportive oncology care designed to help you and your family cope throughout the cancer journey
At UChicago Medicine Comprehensive Cancer Center, physicians who treat thymoma and thymic malignancies meet regularly to form consensus opinions on how best to treat each patient's disease and to monitor treatment progress.
About Thymoma and Thymic Cancer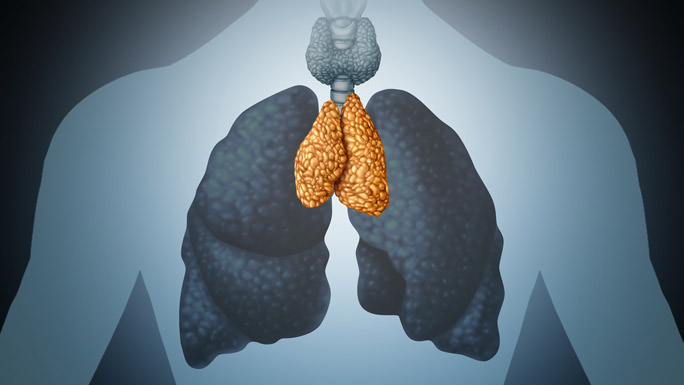 The thymus is a small gland located in the upper chest, between your lungs and behind the breastbone. The thymus is active early in life, before puberty, and is involved in the production and maturation of T-lymphocytes (T cells) which are infection-fighting white blood cells.

Thymoma and thymic malignancies occur when cancer cells form on the outer surface of the thymus. In the United States, this rare disease has an estimated incidence of 1.5 new cases per million people each year. Thymic tumors can occur at any age, but are more commonly diagnosed in middle age.

Types of Thymic Tumors
Thymomas account for approximately 90% of thymus tumors. Typically, thymomas are slow-growing tumors confined to the thymus, but some thymomas are aggressive and can spread to nearby organs in the chest. There are at least five subtypes of thymoma (A, AB, B1, B2, B3), each with its own patient care protocol and prognosis.

More than 30% of thymomas are linked to autoimmune diseases such as myasthenia gravis, red cell aplasia and lupus erythematosus. Given the complexities of these conditions in addition to cancer, our program includes specialists from neurology and rheumatology/immunology who work side-by-side our cancer team to ensure comprehensive care. If our team suspects you may have myasthenia gravis (an autoimmune disease that affects the nerves and muscles) or another autoimmune condition, we'll order additional tests to best define your disease.
Thymic carcinomas grow more quickly than thymomas and are more likely to spread to other parts of the body.
Thymic neuroendocrine tumors are a type of neuroendocrine tumor. Thymic neuroendocrine tumors are the rarest type of thymus tumor.
The Best Treatment Plan Is Guided by a Thorough Diagnosis
Because there are different types of thymic malignancies that require very different treatments, it's important to get an accurate diagnosis to inform the best treatment plan. Our physicians use multiple diagnostic techniques including physical exams, radiology imaging such as CT, PET and MRI scans, and pathology analysis to gather as much information as possible to determine your tumor type, location and size, and if cancer cells have spread beyond the thymus.

An accurate diagnosis builds the foundation for treatment, while also helping to rule out tests and treatments that are not likely to be effective for your type of cancer.

A key initial step in diagnosing thymic malignancies is pathology analysis of tissue to pinpoint the tumor subtype. Tumor cells are typically collected before or during surgery using minimally invasive techniques (this is called a biopsy). A pathologist examines the cells under a microscope. At UChicago Medicine, our pathologists are internationally known for their expertise in characterizing cancer subtypes.
Thymoma and Thymic Cancer Treatments
Treatment decisions and the order of treatment approaches are based on the type and stage of the tumor and the health of the patient. Depending upon your cancer diagnosis, as well as your treatment preferences, your care plan may include one or more types of treatment:

Surgery
Surgery is one of the main treatment types for thymic malignancies and is most effective when performed by a thoracic surgeon who is highly skilled at removing these tumors and any affected lymph nodes. Even though these cancers are rare, our renowned surgeons have performed many successful surgeries to treat thymic cancers.

Whenever possible, UChicago Medicine thoracic surgeons use minimally invasive and robotic techniques that enable effective tumor removal through smaller incisions, resulting in a faster recovery with fewer post-operative side effects than an open procedure. Tumors greater than 4 centimeters may be removed using a traditional open approach.

Radiation Therapy
Radiation therapy uses high-energy radiation to kill cancer cells. Our radiation oncologists are nationally respected specialists in crafting radiation treatment plans that target tumors while sparing nearby healthy tissue. In some cases, radiation therapy is prescribed when surgery is not an option or after surgical resection. Radiation therapy is also effective at relieving symptoms if the cancer has spread to other parts of the body.

Chemotherapy
Chemotherapy uses powerful medicines to destroy cancer cells and to prevent these cells from multiplying. At UChicago Medicine, our medical oncologists are leaders in determining the best chemotherapy solutions for thymic cancers. Depending upon your diagnosis, chemotherapy may be given before surgery or radiation therapy to shrink the tumor or after surgery to treat any residual cancer cells and to lower the risk for recurrence.
Thymoma and Thymic Tumor Treatment by Disease Stage
At UChicago Medicine, our thymoma and thymic malignancies team will look at all aspects of your disease, your overall health and your treatment preferences to develop a customized care plan.

The following are general guidelines for treatment options by cancer stage, though your care will be tailored to your specific needs:

Stage I: Localized Disease
For localized disease when tumors appear confined to the thymus, surgeons remove the thymus and the fatty tissue surrounding the thymus, in a procedure called radical thymectomy. One or more lymph nodes are removed and examined to determine if your cancer has spread.

Most thymic malignancies are early-stage tumors. In these cases, the goal of surgery is to remove the entire tumor and thymus gland to reduce the likelihood of cancer recurrence.

Stage II and III: Locally Advanced Disease, Operable with Integrated Cytoreductive Treatment
If your tumor extends beyond the thymus into nearby tissue, it is considered locally advanced disease. Treatment of locally advanced thymic malignancies involves a multimodal approach, which could include the following options:
Chemotherapy to shrink the tumor
Surgery to remove the tumor
Radiation to treat residual tumor after surgery or when surgery cannot be performed
Treatment After Surgery
Post-operative treatment differs for thymoma and thymic carcinoma, and varies by cancer stage and if there is residual disease after surgery. Our team will determine if chemotherapy or radiation therapy are necessary after surgery (the primary treatment).

Treatment of Relapsed Thymoma or Thymic Cancers
Relapse of disease is uncommon for completely resected tumors, and depends upon disease stage. Recurrent disease is more common for thymic carcinoma. Relapse may occur around five years after initial treatment, but it can occur later. If your cancer returns after treatment, know that our team offers additional effective solutions to treat the cancer, including surgery or chemotherapy followed by surgery.

Stage IV: Treatment of Metastatic Disease
Metastatic tumors, which have spread only to the pleural space (tissues that line the lungs and chest cavity), can sometimes be removed with surgery. Metastatic cancers that have spread to other organs and recurrent tumors that are no longer operable are treated with systemic chemotherapy. If you have metastatic thymic cancer, you may also be eligible to participate in a clinical trial of promising treatments that are not widely available at other hospitals.
Follow-Up Care for Thymoma and Thymic Cancer
After completion of your primary cancer treatment, you should return for follow-up visits at prescribed intervals in order to monitor you for recurrent disease. It's important to catch relapsed disease as soon as possible, when it's easier to treat.

In general, follow-up visits should occur on a quarterly basis for the first two years, followed by six-month interval visits. You will have a CT scan at each visit, and may have a PET scan if there's a suspicion of disease recurrence. If you have neurologic or autoimmune disorders, you should continue to get care for those conditions.
Coordinated Care – Right from the Start
Our multidisciplinary clinic is held twice a month at the Duchossois Center for Advanced Medicine (DCAM) at our main campus in Chicago's historic Hyde Park neighborhood. At your initial visit, you will meet with a thoracic surgeon and a medical oncologist, with the possibility of meeting with neurologists or rheumatologists/immunologists if you have or are suspected to have an autoimmune disease in addition to cancer.

Nurse navigators play a central role in care, and will work closely with you and your family from the beginning and throughout the care journey. Nurse navigators serve as a "go-to person" to answer questions and to help guide patients through the care process. They coordinate essential treatment and support services including lab tests, clinic visits, mental health and nutritional counseling, social work care and more.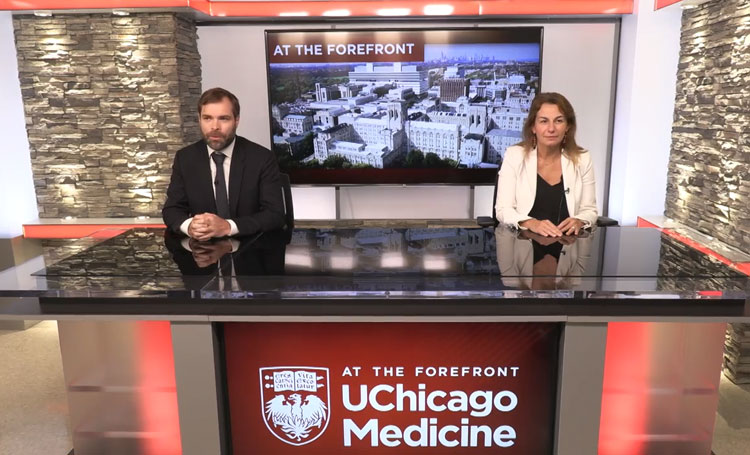 Request an Appointment
The information you provide will enable us to assist you as efficiently as possible. A representative will contact you within one to two business days to help you schedule an appointment with the Thymoma and Thymic Malignancies Program.
You can also make an appointment with our providers by:
– Scheduling a virtual video visit to see a provider from the comfort of your home
– Requesting an online second opinion from our specialists
To speak to someone directly, please call 1-855-702-8222. If you have symptoms of an urgent nature, please call your doctor or go to the emergency room immediately.
For Referring Physicians
To refer a patient to the Thymoma and Thymic Malignancies Program, please call 1-855-702-8222.