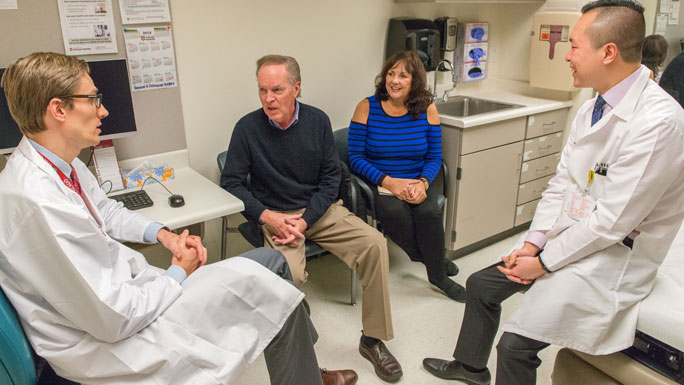 About Neuroendocrine Tumors
Your endocrine system plays a critical role in regulating how your body works. The endocrine system releases hormones inside your body's blood and lymph vessels. When we refer to neuroendocrine cells, we mean endocrine cells that receive feedback from your nervous system — for instance, the hormone adrenaline is released by neuroendocrine cells in the adrenal gland when signaled to do so by your brain.

Your small intestines, stomach, lungs, pancreas and thyroid are just a few of the organs in your body that contain neuroendocrine cells — cells that, if malfunctioning, can grow tumors. Neuroendocrine tumors, or NETs, vary in how fast they grow and can be cancerous or non-cancerous. Due to their nature, some of these tumors can also secrete hormones, but a majority of them do not.
Understanding Neuroendocrine Tumors
Understanding neuroendocrine tumors. Neuroendocrine cells are found throughout the body, particularly in the small bowel, pancreas, stomach, adrenal glands, lungs, and thyroid. When these cells received messages from the nervous system, they release hormones. Neuroendocrine tumors, or NETs, are tumors that form in neuroendocrine cells.

NETs are rare and complex. Because their behavior can be difficult to predict, it is important for patients to be seen by an experienced team of doctors for diagnosis and treatment. The NETs care team at University of Chicago Medicine includes experts across many specialties.

They work together to accurately diagnose neuroendocrine tumors, and to determine the most effective treatment for each patient. At UChicago Medicine, treatment for NETs often includes surgery, even for tumors that have spread to other organs.

Our surgeons are some of the most experienced in the country at treating NETs, and to use unique state of the art techniques to destroy and remove tumors. In addition, we were one of the first centers in the country to offer a promising treatment called Peptide Receptor Radionuclide Therapy, or PRRT.

PRRT combines a targeting molecule that binds to specific receptors on tumor cells and a radioactive particle that destroys cancer cells. PRRT is given to patients through an IV infusion, and has fewer side effects than other chemotherapies. A course of treatment typically includes four doses given eight weeks apart.

At UChicago Medicine, our researchers are working to find the underlying cause of these tumors, and to bring new treatments, including innovative clinical trials, for the most challenging cases. Want to learn more about treatment and the newest clinical trials for neuroendocrine tumors? UChicago Medicine is here to help. Visit UChicagoMedicine.org/nets.
Why choose the University of Chicago Medicine for neuroendocrine tumor care?
If detected early, many neuroendocrine tumors can be cured through treatment such as surgery. Neuroendocrine tumors are rare, however; they usually don't cause symptoms early on and are consequently found at a more advanced stage. That's why finding the right hospital and knowledgeable doctors is critical. At UChicago Medicine, we offer unique therapy options for even the most advanced neuroendocrine cancers.

UChicago Medicine Comprehensive Cancer Center offers:
A multidisciplinary and dedicated neuroendocrine tumor program consisting of nationally recognized experts who specialize in diagnosing and treating all forms of NETs.
A neuroendocrine tumor clinic that allows patients to be seen by medical oncologists and surgeons at the same time, reducing visits to the medical center. These same physicians regularly meet with other NET experts to determine the best treatment plan for you.
Advanced techniques for surgical removal of NETs, including minimally invasive and robotic procedures, as well as complex approaches to remove and destroy NETs that have spread to the liver – even in those cases where multiple liver lesions are detected.
Leading-edge technologies like precision-enhancing navigation-controlled ablation of liver tumors and Peptide Receptor Radionuclide Therapy (PRRT), a systemic, targeted approach that delivers radiation to NET cells without damaging other organs.
The only medical cyclotron in the region for creating and using novel PET radiotracers for detecting NETs. This allows for participation in clinical treatment research trials not available elsewhere.
UChicago Medicine physicians can analyze your genetic profile to help determine whether precision medicine treatments may be effective with your individual disease. This opens the door to novel targeted therapy approaches and allows for participation in clinical trials not available elsewhere.
Researchers conducting the latest studies on NETs, both in the laboratory and the clinic.
One of the busiest genetic counseling programs in the country with physicians and genetic counselors experienced in treating patients with NETs linked to hereditary conditions. UChicago Medicine has the only Von Hippel-Lindau Alliance-certified clinical care center in the state.