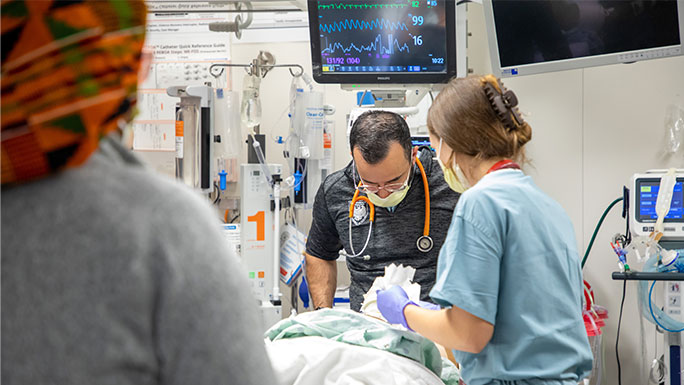 The University of Chicago Medicine is designated as a Level 1 Adult Trauma Center, meaning the hospital is prepared to handle the most seriously injured trauma patients 24 hours a day, seven days a week. Together with its Level 1 Pediatric Trauma Center at Comer Children's Hospital and its Burn and Complex Wound Center, UChicago Medicine is able to provide the community a comprehensive system of care to treat the full range of trauma injuries in patients of all ages.
Adult Emergency Room: 773-702-6250
Pediatric Emergency Room: 773-702-6249
Learn more about the surgeons leading our Level I Trauma Center
UChicago Medicine began providing Level 1 adult trauma care in 2018, nearly 30 years after discontinuing the program. The academic medical center has offered Level 1 pediatric trauma care since 1990. Read more about the adult trauma center's first five years.

The institution is home to the South Side of Chicago's only Level 1 Pediatric Trauma Center and the University of Chicago Medicine Aeromedical Network (UCAN), which provides helicopter transportation from the scene of an emergency to our Hyde Park campus or between hospitals within a 200-mile radius.

Through our Urban Health Initiative, we are partnering with and supporting community organizations to provide trauma patients and their families with wraparound services, violence recovery efforts and other services that ensure they can recover from traumatic injuries.
Our Services
We provide trauma surgery, acute care surgery and critical care surgery to treat injuries involving:
Burns
Blunt trauma, which can occur from falls or pedestrian-motor vehicle crashes
Penetrating trauma, typically seen in gunshot or stab wounds
Where Should I Go for Care Today?
You never know when a sudden injury or illness may happen. That's why it's so important to be prepared and know what steps you can take as soon as symptoms appear. Click below to learn more about the best times to visit primary care, urgent care or the emergency department.
Trauma and Violence Recovery Articles