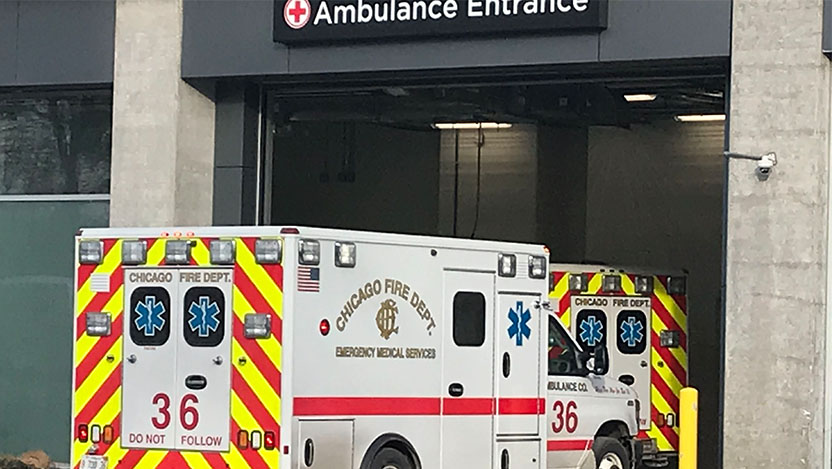 University of Chicago Medicine was designated as an Illinois Department of Public Health (IDPH) Resource Hospital in April 1976. Through this authority, we provide medical and administrative oversight for the Chicago South EMS System as part of Region 11 EMS. The Region 11 EMS Medical Directors Consortium (MDC) is comprised of four Resource Hospitals that work together to ensure the continuity of emergency medical services within the city of Chicago. UChicago Medicine is a Level 1 Trauma Center, Comprehensive Stroke Center, STEMI Center, Burn Center, VAD Center and a Level III Perinatal hospital. Comer Children's Hospital is a Level 1 Pediatric Trauma Center.
We are a Region 11 Base Station and our Adult and Pediatric Emergency Departments have trained Emergency Communications Registered Nurses (ECRNs) and Emergency Communications Physicians (ECPs) providing 24/7 medical direction for a high volume of telemetry calls. Our EMS Fellows and Emergency Medicine residents are actively involved in EMS education and medical direction.
We provide oversight for five EMS providers as well as 1200 EMTs and Paramedics that provide care within our EMS System. Our EMS providers are:
Chicago Fire Department (CFD)
University of Chicago Aeromedical Network (UCAN)
Vandenberg Ambulance
Hawthorne Racetrack EMS
University of Chicago EMS-First Responder Corps (UCEMS)
Our Associate Hospitals are Holy Cross Hospital, Advocate Trinity Hospital and Mount Sinai Hospital.
What We Do
Our staff manages the education, licensure, operations, and quality improvement for the Chicago South EMS System. We work in collaboration with the Malcolm X College Paramedic Program through the City Colleges of Chicago. We provide regular system continuing education for all levels of EMS providers.
Contact Us:
Phone
Fax
Address
773-702-9502
773-702-7182

5841 S. Maryland Avenue, MC 5068

Chicago, IL 60637
Please visit our Region 11 EMS website for more information.
Trauma and Violence Recovery Articles