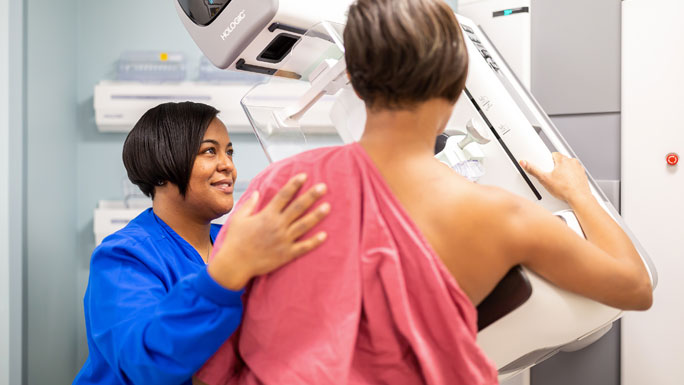 The goal of breast cancer screening is to find cancer at the earliest possible stage, before it causes symptoms or pain and when it is easier to treat. UChicago Medicine offers mammography at several locations, including our main location in Chicago and at several locations in Chicago's Southland.
At UChicago Medicine, our board-certified radiologists provide the full range of image interpretation and image-guided procedures to uncover signs of disease, including:
2D digital mammography, breast ultrasound and breast MRI (magnetic resonance imaging)

3D mammography, which takes multiple images of the breast (tomosynthesis)
In an effort to make breast cancer testing more comfortable, accurate and convenient, our breast imaging centers are using new screening technologies, such as breast-shaped mammogram paddles and high-speed MRIs.
Much of our radiologists' work is integrated with colleagues in our Breast Center — medical oncologists, radiation oncologists, surgeons and pathologists. This collaboration includes performing procedures to better identify the precise location of a tumor for patients who need surgery; using MRI to monitor patients undergoing chemotherapy before surgery (called neoadjuvant chemotherapy); and performing screening for patients who have a strong family history of breast cancer or a genetic predisposition to cancer.
Guidelines for Breast Cancer Screening
Mammograms are now recommended for women at average risk starting at age 40. Talk with your doctor to determine what screening schedule is best for you.
Discuss with your health care provider:
Any changes to the normal shape and feel of your breast
Family history of breast cancer
Your risk of breast cancer and the best screening plan for you
Recognized for the Highest Standards in Breast Imaging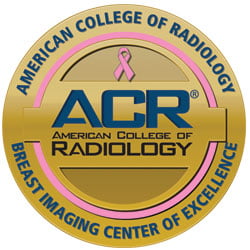 UChicago Medicine's main campus location in Hyde Park, UChicago Medicine at Ingalls - Harvey, Chicago Medicine at Ingalls - Calumet City and UChicago Medicine at Ingalls - Tinley Park are designated as Breast Imaging Centers of Excellence by the American College of Radiology. A center of excellence designation is awarded to breast imaging centers that have demonstrated excellence and achieved full accreditation in mammography, breast ultrasound, breast ultrasound-guided biopsy and stereotactic breast biopsy.
More Options for Women with Dense Breast Tissue
Approximately 40 percent of women have dense breast tissue which can obscure small tumors, making them difficult to detect with routine mammography. Whole breast ultrasound can be used along with mammography to examine dense breast tissue.In accordance with Illinois law, our highly experienced radiologists report breast density to both patients and referring providers. This information is useful in determining whether or not additional breast screening should be considered. Learn how breast density affects cancer detection and what screening options are available to women with dense breasts.
Hereditary Breast Cancer Risk & Prevention
Between 5 and 10 percent of breast cancers are thought to be hereditary and are caused by mutations in a person's gene. UChicago Medicine offers a comprehensive breast cancer risk and prevention program for patients who may have inherited a gene mutation associated with breast cancer (e.g. BRCA1 and BRCA2). Our oncologists work in tandem with board-certified genetic counselors to help patients understand the risks and benefits associated with genetic testing, guide them through appropriate screening and prevention options and provide more information for their family and their care.
Although genetic testing has become inexpensive and accessible, testing rates are surprisingly low. They are far lower for Black women than for white women, and for uninsured patients. Our breast health researchers are addressing these disparities through several initiatives to improve breast screening for all women at risk (PDF).
Understanding Your Breast Cancer
Understanding the biological makeup of breast cancer is an important first step to treating this disease. UChicago Medicine's breast cancer program includes board-certified pathologists who focus their practice on benign and malignant breast diseases. Dedicated pathology assistants ensure specimens are effectively prepared for fast and accurate pathology results. These results play a key role in informing treatment planning.
Beyond the initial pathology results, our pathologists provide crucial insight and expertise in the multidisciplinary treatment of breast cancer patients.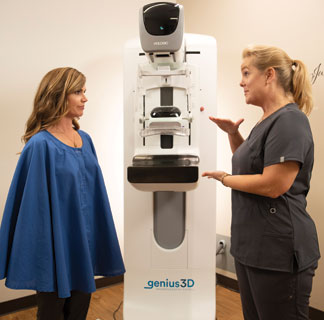 A Comfortable Mammogram?
New breast screening technologies, like breast-shaped mammogram paddles and high-speed MRIs, are helping make breast cancer testing more comfortable, accurate and convenient.
Learn more
Select a Convenient Location for Breast Cancer Screening Mammography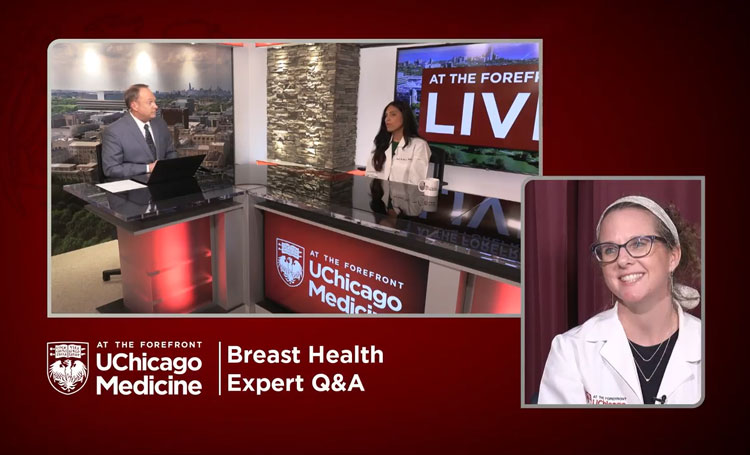 Breast Health: Expert Q&A
UChicago Medicine radiologist Kirti Kulkarni, MD, and genetic counselor Feighanne Hathaway, MS, CGC, talk about breast screening mammography, other breast imaging technologies, the role of genetics and family history in breast cancer risk and prevention, and more.
Watch Video
Watch Video With Transcript