Skip to content
Curved mammogram paddles? Yes, plus other new state-of-the-art breast cancer screening tools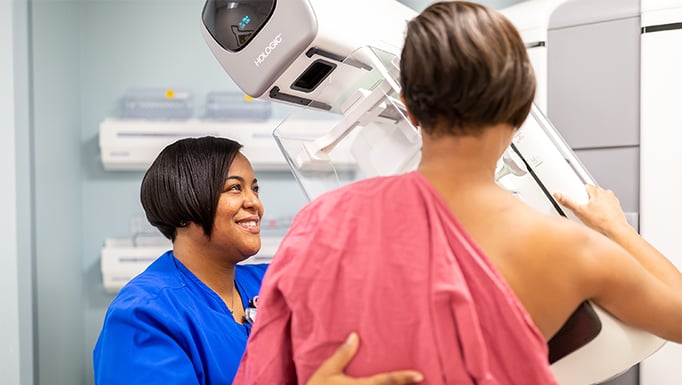 Curved mammogram paddles. A faster and less expensive breast MRI. Artificial intelligence (AI)-aided tumor detection. At-home tests to determine your personal risk for breast cancer.
These are some of the newest technologies on the horizon or already in use at the University of Chicago Medicine. The academic health system recently expanded its breast imaging services, adding state-of-the-art tools to improve accuracy, comfort and convenience.
UChicago Medicine partnered with Solis Mammography to bring the latest technology to the Chicago market. The hospital, already known nationwide for its breast cancer expertise, is also progressing with its industry-leading clinical trials for new breast cancer screening tools.
The American Cancer Society expects an estimated 279,100 women will be diagnosed with breast cancer and more than 42,000 will die from the disease — making early detection critically important.
Breast-Shaped Mammogram Paddles
Yearly mammograms are recommended for women starting at age 40. But many women avoid them because the procedure is painful — each breast is tightly pressed between two flat panels to scan for potential tumors.
To make the test more comfortable, UChicago Medicine uses SmartCurve, developed by Hologic, in partnership with Solis Mammography. This unique technology offers curved compression paddles, shaped like a woman's breast, and a SmartCurve Breast Stabilization System with 3D imaging. It can be used by the vast majority of women, except those with very small or large breasts, or with certain types of implants.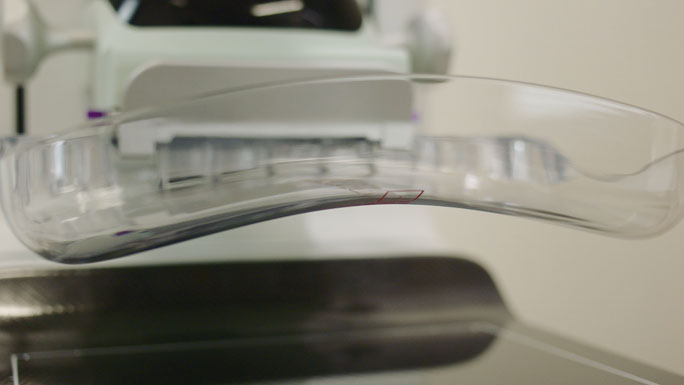 "Women who have tried it told me it was revolutionary," said Alex Sardina, MD, Solis Mammography's chief medical officer.
UChicago Medicine upgraded all of its mammogram machines to high-tech 3D models in August 2019, and added SmartCurve paddles to most of them. They're now offered at:
More Comfortable Testing Rooms
UChicago Medicine and Solis Mammography are also transforming two mammography suites, specifically at Orland Park and River East locations, to feel less clinical, so patients can be tested in a more comfortable and calm environment. Several anxiety-reducing features have been added, such as earthy paint colors, soft lighting, comfortable home-like seating and spacious dressing rooms.
During hour-long breast ultrasounds, patients can connect their phones to the treatment room's Bluetooth speaker and listen to their choice of music or podcast.
Contrast-enhanced Digital Mammography (CEDM)
Available at UChicago Medicine Ingalls Memorial Harvey and Tinley Park locations, our new high-tech CEDM technology provides an enhanced clinical view beyond a conventional mammogram and may help detect cancer earlier. Some cancers that may not be visible on standard mammograms will show up on CEDM as often the case with dense breasts.
Upright AFFIRM and Brevera Biopsy Systems
A faster, less-intimidating breast biopsy is now offered at UChicago Medicine in Hyde Park and at UChicago Medicine Ingalls in Tinley Park and Harvey. Hologic's new AFFIRM biopsy system allows patients to sit upright in a chair as a high-tech machine is centered over the breast, calculating the precise spot where the needle needs to be inserted. The Hologic Brevera system streamlines the entire breast biopsy process from start to finish – with real-time imaging for faster results and automated specimen handling. These two new technologies make the whole procedure easier and more comfortable for the patient.
SAVI SCOUT
This new technology — a wireless device roughly the size of a grain of rice — is inserted into the breast to help surgeons accurately locate masses and tumors. It saves time and allows tumors to be removed with smaller incisions. SAVI SCOUT also reduces the amount of healthy breast tissue that's being removed, while increasing the probability of complete tumor removal. It's now being used at UChicago Medicine Ingalls in Harvey and Tinley Park.
QuantX
QuantX is a novel breast imaging analysis technology based on two decades of research by UChicago Medicine's Maryellen Giger, PhD, a world-renowned pioneer in computer-aided diagnosis (CAD). It helps analyze breast MRIs using artificial intelligence (AI) and a large reference database to help radiologists interpret results and identify cancerous and non-cancerous breast lesions.
The FDA recently cleared the new technology for use after a clinical study showed Quantx improved the discovery of breast cancer tumors by 39% and increased overall diagnostic improvement by 20%.
This technology does not replace the decisions doctors make, it just helps inform those decisions.
The imaging team at UChicago Medicine is evaluating QuantX for future patient use.
Ultrafast Abbreviated MRI
Ultrafast Abbreviated MRI is a revolutionary technology developed by UChicago Medicine experts, including Hiroyuki Abe, MD, PhD, and scientist Gregory Karczmar, PhD. It scans the breast every three seconds for about 10 minutes, completing the MRI in a fraction of the time it normally takes. The results are just as accurate, if not more so, due to the high-tech nature of the scans. And the cost of the procedure is significantly less.
The data acquired from Ultrafast Abbreviated MRI's government-funded clinical trials at UChicago Medicine soon will be incorporated in large national trials. It is proving to be a reliable screening tool for high-risk women, including women with dense breasts.
WISDOM Study
UChicago Medicine joined with University of California medical researchers for WISDOM, a national study designed to determine if breast cancer screening can be made better by personalizing each woman's mammogram schedule.
Women enrolled in the study's personalized screening schedule submit family/medical history and saliva samples for genetic testing of nine genes associated with increased breast cancer risk. Risk results will help determine whether a woman needs a mammogram every other year, or if she should get more frequent mammograms supplemented with MRIs.
Because no patient is the same and neither is their cancer, it's important to know your personal risk so you can take control of your care. The WISDOM study is about personalized care — helping to find the right test for each patient.
Learn more and sign up: wisdomstudy.org
LITE MRI
A routine breast MRI involves the injection of a contrast agent (dye). While the contrast improves the image quality, there's been growing concern about its safety. At UChicago Medicine, our team is developing a Low Dose Imaging Technique (LITE) MRI, where less than one-fifth of the contrast is used to obtain the same quality images.
Breast Cancer Care
Our team represents expertise across the spectrum of breast cancer care: breast imaging, breast surgery, medical and radiation oncology, plastic and reconstructive surgery, lymphedema treatment, clinical genetics, pathology and nursing. Patients receive a comprehensive treatment plan that optimizes chances of their survival and quality of life.
Learn more about UChicago Medicine breast cancer care.
Convenient Locations for Breast Cancer Screening Mammography