Every case of metastatic
breast cancer
is unique, just like every person. When you come to the
UChicago Medicine Comprehensive Cancer Center
, our experienced team will treat you as an individual and work with you to create a treatment plan that best suits your needs.
Breast cancer is considered metastatic when it spreads to the bones, brain, lungs or other sites in the body outside of the breast and nearby lymph nodes. We offer the latest whole-body treatments like immunotherapy and other novel therapies, which are improving the lives of many people with metastatic breast cancer. New drugs combining chemotherapy with targeted therapy are also helping many patients live longer, including those with breast cancer that has spread to a
limited number of sites
.
Whether you were just diagnosed or have received several rounds of therapy elsewhere, you have access to a wide range of
clinical trials
at UChicago Medicine. We are especially committed to offering more options for metastatic breast cancer patients who develop resistance to their current therapy and see their cancer progress.
Frequently Asked Questions About Metastatic Breast Cancer
How is metastatic breast cancer treated?
Although there is no cure for the majority of patients with metastatic breast cancer, treatment advances are happening every day and helping many people with the disease live longer, fuller lives. Our medical oncologists, radiation oncologists, surgical oncologists, pathologists, radiologists, nurses and other experts will work together to determine the best treatment plan for you.

This plan depends on several factors, including:
Your type of cancer, specifically:

Is your breast cancer HER2-positive, meaning a protein called human epidermal growth factor receptor 2 makes it grow?
Is your breast cancer hormone-receptor positive, meaning estrogen (ER-positive) or progesterone (PR-positive) makes it grow?
Is your breast cancer triple-negative (an aggressive form of breast cancer that is estrogen receptor-negative, progesterone receptor-negative and HER2-negative)?

Your genetics, specifically if you have mutations on the BRCA1 or BRCA2 genes
The number and size of tumors that have spread to other parts of your body
Your personal goals and preferences
Your overall health and other medical conditions
For metastatic breast cancer, we often recommend systemic treatments like immunotherapies and targeted therapies. But we may also suggest other treatments to improve your quality of life and reduce pain and other symptoms. These are some of the advanced treatments we have available to treat breast colorectal cancer:
What can I expect when I come to UChicago Medicine for metastatic breast cancer treatment?
You can expect comprehensive and compassionate care that is centered on you. Our metastatic breast cancer team will work collaboratively with you to determine the best options to manage your symptoms and extend your life. We strive to offer treatments that fit your lifestyle, so you can continue to do what you want — whether that is working, traveling or spending time with your loved ones.
Our physician-scientists are also deeply committed to finding new and better ways to treat metastatic breast cancer through clinical trials that are not available at most hospitals. Wherever you meet with our specialists, we can connect you with the care you need. Request an appointment to connect with our specialists and begin your evaluation.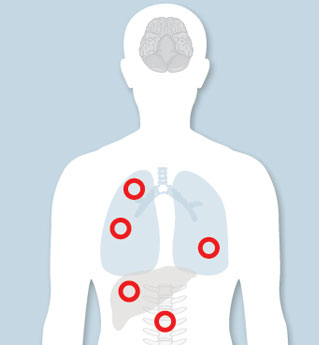 Treating Metastatic Cancer with Optimism and Hope
If you have been diagnosed with metastatic cancer, more therapies may be available to you than you think. Our cancer specialists are eager to help you understand all of your options.
Limited Metastatic Cancer Program
Our Breast Cancer Care Locations
Request an Appointment
The information you provide on this secure form to request an appointment with a UChicago Medicine breast cancer expert will enable us to assist you as efficiently as possible. A representative will contact you within one to two business days to help you schedule an appointment.
You can also make an appointment with our providers by:
– Scheduling a virtual video visit to see a provider from the comfort of your home
– Newly diagnosed patients can schedule a 15-minute introductory Express Expert Cancer Opinion virtual session at no cost
– Requesting an online second opinion from our specialists
To speak to someone directly, please call 1-855-702-8222. If you have symptoms of an urgent nature, please call your doctor or go to the emergency room immediately.
For Referring Physicians
To refer a patient for breast cancer care, please call UCM Physician Connect at 1-800-824-2282.