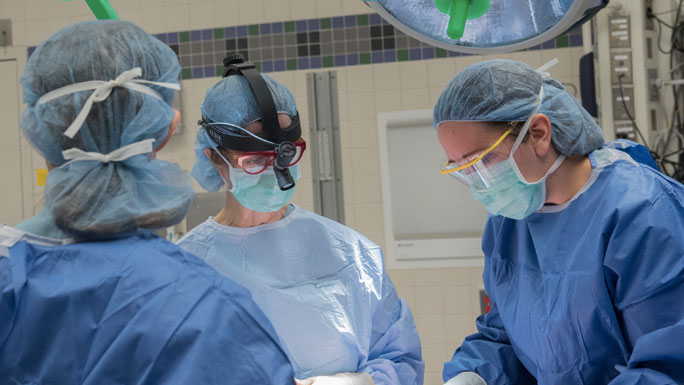 University of Chicago Medicine surgeons are highly skilled, nationally recognized experts in the latest surgical techniques for breast cancer, including:
Breast Conservation Surgery
For many women, our breast surgeons perform breast conservation surgery, which is when the tumor and surrounding tissue are removed while leaving most of the breast intact. Patients then undergo radiation therapy to destroy any cancer cells left in the breast after surgery.
Mastectomy
For women who are not eligible for breast conservation, our breast surgeons also offer mastectomy, or the surgical removal of the entire breast. Surgeons may perform simple mastectomy (remove the entire breast, extra skin, nipple and areola), skin-sparing mastectomy (remove the nipple and areola but maintain the extra skin for immediate reconstruction), or total skin-sparing mastectomy (remove breast tissue but leave the skin, nipple and areola intact for immediate breast reconstruction).
Lymph Node Surgery
To determine whether cancer cells from the breast have spread outside of the breast, our breast surgeons may also perform lymph node surgery. Findings from these procedures (sentinel lymph node biopsy and axillary lymph node dissection) allow the surgeons to determine if a patient needs additional treatment after breast cancer surgery.
Radioactive Seed Localization
We were the first in the Chicago area to offer radioactive seed localization for tumors that are only seen on mammography or ultrasound (tumors not visible to the eye or can't be felt by hand). Tiny radioactive "seeds" are placed near the tumor up to five days before surgery. During surgery, surgeons use a special device to track the seeds so they can easily find and remove the cancerous tissue and seeds during surgery.
Nipple-Sparing Procedures
For women undergoing mastectomy (removal of a breast), our surgeons have unparalleled experience and outcomes in the Chicago area using nipple-sparing techniques.
A Balanced Approach
UChicago Medicine breast surgeons take a balanced approach to breast cancer surgery, using evidence-based medicine to tailor surgery to each woman's needs. For example, for women with cancer in their lymph nodes who have had an excellent response to chemotherapy, our surgeons use minimally invasive techniques to remove only the lymph nodes affected by cancer. This careful approach effectively treats cancer while reducing the risk for post-surgical complications, such as numbness and lymphedema (tissue swelling). If lymphedema develops, we are one of the few hospitals in the nation that offers highly advanced expertise in lymphedema surgery.
Request an Appointment
The information you provide on this secure form to request an appointment with a UChicago Medicine breast cancer expert will enable us to assist you as efficiently as possible. A representative will contact you within one to two business days to help you schedule an appointment.
You can also make an appointment with our providers by:
– Scheduling a virtual video visit to see a provider from the comfort of your home
– Newly diagnosed patients can schedule a 15-minute introductory Express Expert Cancer Opinion virtual session at no cost
– Requesting an online second opinion from our specialists
To speak to someone directly, please call 1-855-702-8222. If you have symptoms of an urgent nature, please call your doctor or go to the emergency room immediately.
For Referring Physicians
To refer a patient for breast cancer care, please call UCM Physician Connect at 1-800-824-2282.