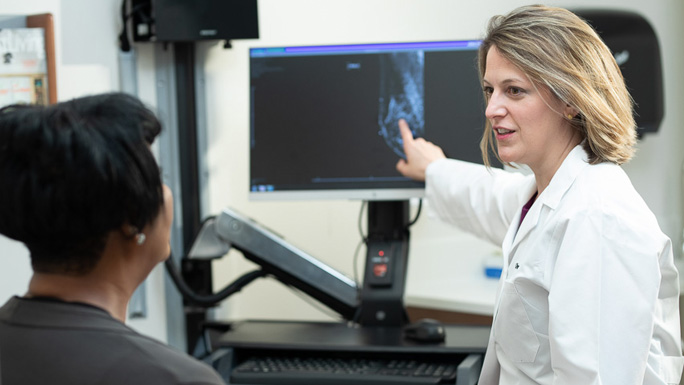 University of Chicago Medicine medical oncologists are skilled at managing all types of breast cancers, with special expertise in aggressive forms of the disease, such as triple-negative breast cancer. We treat breast cancer with the latest systemic therapies — drugs that fight cancer cells almost anywhere in the body.
Neoadjuvant Therapies for Breast Cancer
Neoadjuvant therapies are additional treatments (typically chemotherapy or hormone therapy) to shrink the tumor(s), given before surgical removal of the cancer. Neoadjuvant therapy allows physicians to better understand how an individual's cancer responds to therapy, so the treatment plan can be adjusted accordingly. It also opens the gateway for patients to access newer chemotherapies.
Adjuvant Therapies for Breast Cancer
Adjuvant therapies are treatments given after surgical removal of the cancer. Types of adjuvant therapies include:
Chemotherapy to kill cancer cells
Hormonal therapy to block or lower estrogen, which promotes growth of cancers that are hormone receptor-positive
Biologic therapy to kill cancer cells or block them from growing
Through our breast cancer clinical trials program, we offer many promising emerging systemic therapies not widely available at other institutions.
Our Breast Cancer Care Locations
Request an Appointment
The information you provide on this secure form to request an appointment with a UChicago Medicine breast cancer expert will enable us to assist you as efficiently as possible. A representative will contact you within one to two business days to help you schedule an appointment.
You can also make an appointment with our providers by:
– Scheduling a virtual video visit to see a provider from the comfort of your home
– Newly diagnosed patients can schedule a 15-minute introductory Express Expert Cancer Opinion virtual session at no cost
– Requesting an online second opinion from our specialists
To speak to someone directly, please call 1-855-702-8222. If you have symptoms of an urgent nature, please call your doctor or go to the emergency room immediately.
For Referring Physicians
To refer a patient for breast cancer care, please call UCM Physician Connect at 1-800-824-2282.
Family, Friends and Work Help Mom Through Breast Cancer
Like many women after learning of a breast cancer diagnosis, Kristen Vitale experienced shock and fear. Comprehensive, compassionate care, plus the love and support of family and friends helped her through her fight.
Read Vitale's story