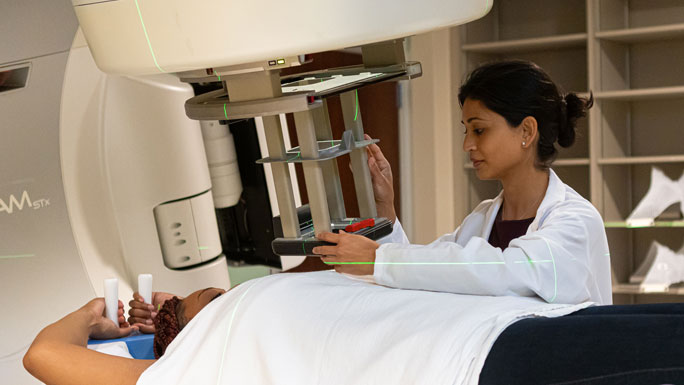 University of Chicago Medicine's nationally recognized radiation oncologists use sophisticated methods and technology to deliver precise treatments that target breast tumors while sparing healthy tissue. We offer the full range of treatment options, all designed to provide accurate, comfortable and safe care. Treatment approaches are customized to each patient's needs, taking into account the type of breast cancer, location of the tumor, body shape and the patient's preferences.
Our radiation oncologists and medical physicists are pioneers in prescribing the right type of radiation therapy and the optimal position (patient lying chest down or chest up) for receiving therapy. We're often the first in the nation to offer leading-edge technology and treatment approaches, before these options become the standard of care elsewhere.
Some radiation therapy firsts that occurred at UChicago Medicine include:
Intensity-modulated radiation therapy (IMRT): An advanced type of radiation treatment that uses 3D images to shape the beam and its intensity to the contour of the tumor, minimizing radiation to healthy tissue.
Prone-position radiation therapy: Patient lying chest down, which allows the radiation beam to target the cancer without delivering unnecessary radiation to the heart and lungs.
Hypofractionated radiation therapy: Larger doses of radiation given less frequently, which shortens the traditional course of therapy from six weeks to three weeks.
3D surface imaging to facilitate Deep-Inspiration Breath-Hold (DIBH): Patients receiving radiation for left-sided breast tumors while in the supine position (lying chest up) are at greater risk for radiation exposure to the heart. Women can minimize this risk by breathing deeply and briefly holding their breath during treatment, which moves the heart and lungs away from breast tissue.

To make DIBH easier for the patient, our experts use a state-of-the-art system that relies on 3D surface imaging to detect the breast's position for accurate treatment. This highly sensitive technology delivers radiation only during optimal positioning, shutting off automatically when the patient coughs or exhales. Unlike older DIBH technology, this system is non-invasive and does not require the patient to breathe into a device during treatment.
Our Breast Cancer Care Locations
Request an Appointment
The information you provide on this secure form to request an appointment with a UChicago Medicine breast cancer expert will enable us to assist you as efficiently as possible. A representative will contact you within one to two business days to help you schedule an appointment.
You can also make an appointment with our providers by:
– Scheduling a virtual video visit to see a provider from the comfort of your home
– Newly diagnosed patients can schedule a 15-minute introductory Express Expert Cancer Opinion virtual session at no cost
– Requesting an online second opinion from our specialists
To speak to someone directly, please call 1-855-702-8222. If you have symptoms of an urgent nature, please call your doctor or go to the emergency room immediately.
For Referring Physicians
To refer a patient for breast cancer care, please call UCM Physician Connect at 1-800-824-2282.