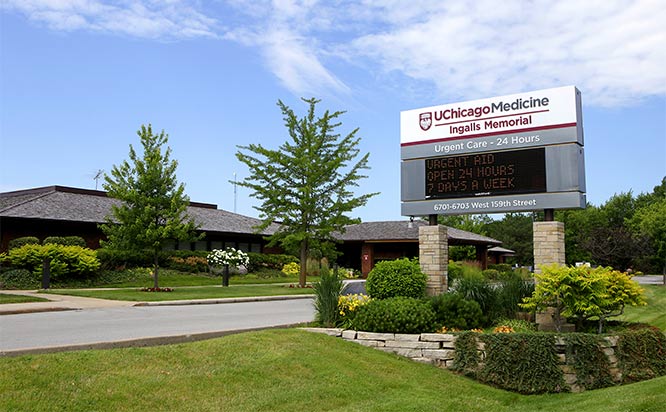 Virtual Care at UChicago Medicine Ingalls Memorial
We now offer a virtual visit option, which means you may call your provider directly to discuss your basic care needs, or to complete a primary care or wellness visit. This safe and efficient option allows your provider to diagnose, treat, and prescribe medications over the phone. Please note that virtual visits are now covered by all medical insurance plans.
If you would like to schedule a virtual visit with your provider, please call 855-826-3878.
PLEASE NOTE: To protect patients, staff and the community, patients at all UChicago Medicine Ingalls Memorial outpatient and urgent aid centers may have only one person with them who is providing transportation and assistance. Additionally, no visitors are being allowed at Ingalls Memorial Hospital.
UChicago Medicine at Ingalls - Tinley Park offers quick and convenient specialty and primary care for the whole family. Our teams care for children, teens, adults and senior citizens who need annual exams, immunizations, treatment for injuries or help managing chronic illnesses. We also offer on-site urgent aid, laboratory testing, X-rays, screening mammography, lung cancer screening, stress tests and rehabilitation services.
Book an Appointment Online (powered by InQuicker)
UChicago Medicine at Ingalls - Tinley Park offers the convenience of online booking for the services below as well as Urgent Aid, Primary Care and other specialty services. For additional services you can access our online scheduling system or fill out our Request an Appointment form.
Emergency Room
6701 West 159th Street
Tinley Park, IL, 60477
To see all appointment times, view our full schedule:
Laboratory Services
6701 West 159th Street
Tinley Park, IL, 60477
To see all appointment times, view our full schedule:
Protect Yourself and Others from the Flu
UChicago Medicine offers flu shots for existing patients at several locations on the South Side and in the south suburbs. Find a convenient location near you.
Flu Vaccination Clinics
Our Services
Whether you need outpatient lab work or are staying in the hospital for inpatient services, UChicago Medicine provides the most comprehensive lab services available anywhere.
The laboratory is equipped with the latest, computerized instrumentation for quick and accurate inpatient and outpatient testing, enabling our skilled team of medical technologists to effectively process nearly a million lab tests annually.
Diagnostic testing allows radiologists to see detailed pictures of structures within the human body that cannot otherwise be seen. Imaging technologies such as X-rays, CT scans, mammography, MRI, nuclear medicine and ultrasound are invaluable in diagnosing abnormalities and disease.
The Department of Radiology at UChicago Medicine offers a full range of cutting-edge diagnostic and international procedures, along with a committed team of experts and the latest technology, provided in multiple convenient community locations.
Our Technologies:
CT
Interventional radiology
Mammography
MRI
Musculoskeletal problems
Nuclear medicine
PACS (Picture Archiving and Communications System)
PET/CT SCAN
IGRT (Image-Guided Radiation Therapy)
IMRT (Intensity Modulated Radiation Therapy)
Ultrasound
64-Slice CT Scan
Cancer & Non-Cancer Infusion Servives
In addition to the infusion services utilized by cancer patients, all other patients who require infusion therapy can receive state-of-the-art care provided by skilled professionals in a comfortable environment that includes pillows and warmed blankets, free wireless Internet service, individual flat-screen TVs and convenient free parking in all locations.

Dozens of conditions from anemia to ulcerative colitis require that medication be administered by infusion therapy.
Infusion services include:
Blood transfusions
IV antibiotic therapies
Hydration/electrolyte replacement
Cardiac infusions
Chemotherapy
Procrit, Epogen and Neulasta subcutaneous injections
Antipsychotic medication therapies and much more
Therapies are offered for individuals affected by:
Anemia
Anklyosing spondylitis
Asthma
Autoimmune disorders
Cancer
Crohn's disease
Chronic gout
Granulomatosis
Hunter syndrome/MPS II
Immunodeficiencies
Inflammatory bowel diseases
Infectious diseases
Iron deficiencies
Lupus
Multiple sclerosis
Osteoporosis
Paget's disease
Post-herpetic neuralgia
Plaque psoriasis
Psoriatic arthritis
Rheumatoid arthritis
Sarcoidosis
Substance dependency
Ulcerative colitis
Vasculitis
Wegener's granulomatosis
All sites also offer an on-site lab and pharmacy, and assistance with billing and insurance verification questions.
Mammography & Breast Cancer Care
The Richard K. Desser, MD, Comprehensive Breast Center at UChicago Medicine — Tinley Park has been designated a Breast Imaging Center of Excellence by the American College of Radiology. This designation signifies the highest standards of the radiology profession for breast imaging and diagnosis.
Whether you need a mammogram, a biopsy or treatment for breast cancer, our team is standing by. Our specially trained nurse navigator answers questions, as well as educates and assists patients in every aspect of their care – from diagnosis through treatment. The Desser Center team also includes experienced, specially trained radiologists who understand your particular concerns, and have passed stringent standards for performing and interpreting mammograms, ultrasound, MRI and other diagnostic tests.