Diabetes is a serious medical condition that affects 29 million people in America. Because this disease increases risk for other serious medical conditions, such as heart disease, diabetes must be carefully managed.
UChicago Medicine offers a patient-centered, science-based approach for managing insulin-dependent Type 1 diabetes, complex Type 2 diabetes, gestational, pre-diabetes and monogenic diabetes. Our multidisciplinary team works with patients and referring physicians to address all the challenges of diabetes, from hypertension and vascular problems, to foot conditions and kidney disease. We offer second opinions and ongoing treatment for people living with diabetes.
Controlling diabetes is a team effort. At UChicago Medicine, we help coordinate the efforts of your care team members, starting with your personal physician. Our team of certified diabetes educators includes registered dietitians and registered nurses who provide the latest in diabetes education and support.
We focus on teaching our patients self-management skills including:
Medication management
Insulin administration
Self-blood glucose monitoring
Meal planning/weight management
Exercise planning
Pregnancy and diabetes management
Insulin pump education and training
Sensor training
72-hour continuous glucose monitoring
Signs of Diabetes
The signs and symptoms of diabetes are similar for the three main types of diabetes. The difference is in how the symptoms begin and at what stage of life the diabetes mellitus (DM) symptoms develop.
Type 1 diabetes tends to develop quickly. The onset tends to be at a younger age, even presenting in childhood.
Type 2 diabetes tends to develop slowly and can develop over a long period. Because of this gradual onset, early symptoms of type 2 diabetes are often missed. In fact, one third of people with this type of diabetes are not even aware they have the disease. Ninety to 95 percent of all diabetes cases are from type 2 diabetes.
Gestational diabetes occurs during pregnancy and though the signs of gestational diabetes are similar to the other types of diabetes, they will only occur in pregnant women and typically during the third trimester.
The signs and symptoms of diabetes can be easily overlooked because they are often subtle or develop over time. It is important to visit your doctor for an accurate diagnosis if any of these symptoms are noted:
Frequent urination. If you find that you are racing to the bathroom more often or need to get up in the middle of the night to go.
Increased thirst or feeling as if you cannot quench your thirst, regardless of how much you drink.
Weakness or fatigue that seems to last most of the day. Because your body is not using glucose properly, your cells are starved of energy, and you are left feeling run down.
Weight loss without dieting. If your weight drops without a reasonable explanation, see your doctor.
Tingling or numbness in the hands and feet. This condition, known as neuropathy, occurs over time as high glucose levels begin to damage the nervous system.
Delayed healing of bruises or cuts or frequent infections should be brought to the attention of your doctor.
Changes in vision, especially blurred vision, can be an indication of diabetes.
Dry and itchy skin should also be noted.
The signs and symptoms of diabetes arise because the body is not able to properly deliver glucose to the cells of the body, keeping glucose levels elevated in your blood. Your doctor will be able to confirm if your blood glucose levels are too high and if you are at risk of or have diabetes. The earlier a diagnosis is made, the easier the disease is to treat, so do not delay if these symptoms are present.
Diabetes Classes and Events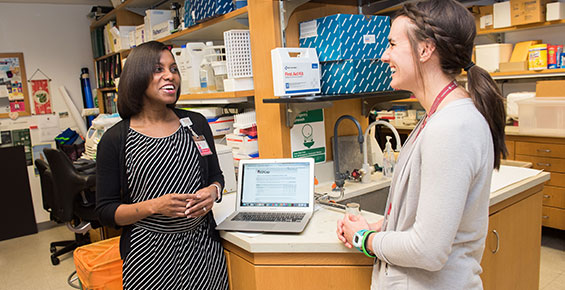 What We Treat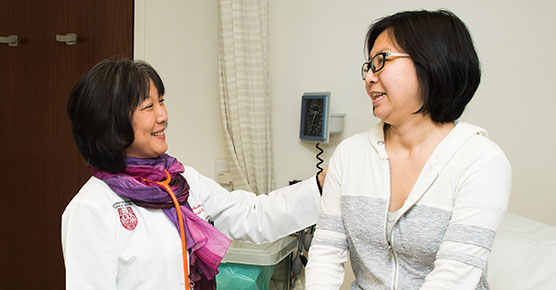 Related Services
Why Choose UChicago Medicine for Diabetes Care
Telemedicine at UChicago Medicine

Schedule a Video Visit
For your convenience and safety, we offer secure and easy virtual visits for most non-urgent visit types. Our care providers can assess your symptoms, make a diagnosis, recommend treatment and send prescriptions to your pharmacy.

Get a Second Opinion Online
Whether you are facing a complex health issue or difficult treatment decision, getting a second opinion can help you make an informed decision about your care. Get an online second opinion from one of our experts without having to leave home.

Submit an E-Visit
Complete an online questionnaire (e-visit) through your MyChart account to get a same-day diagnosis and a treatment plan from UChicago Medicine clinicians for common conditions.
Request an Appointment
The information you provide will enable us to assist you as efficiently as possible. A representative will contact you within one to two business days to help you schedule an appointment.
You can also make an appointment with our providers by:
– Scheduling a virtual video visit to see a provider from the comfort of your home
– Requesting an online second opinion from our specialists
– Filling out an online questionnaire (e-visit) to get a same-day diagnosis and treatment for common conditions.
To speak to someone directly, please call 1-888-824-0200. If you have symptoms of an urgent nature, please call your doctor or go to the emergency room immediately.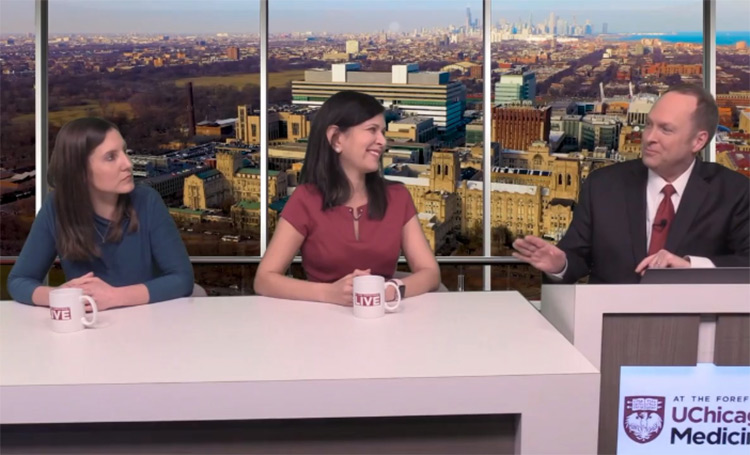 Related Articles About Diabetes