University of Chicago Medicine Blood Donation Center
You can save a life today!
Maintaining an adequate supply of blood is essential for the life-saving treatments needed by many patients here at the University of Chicago Medicine (UCM). As part of our commitment to our patients, all blood collected here at the UCM Blood Donation Center stays here for our patients. Donating blood is safe, simple and easy. Your decision to donate at UCM will make a difference in the lives of our patients.
Schedule your appointment to donate today:
Call 773-702-6247
If you are interested in learning more about hosting a blood drive in our Donation Center, contact Malissa Lichtenwalter for more details
Appointments are recommended and walk-ins are accepted as time permits
Donation Hours
Monday through Friday
8:00 a.m. to 3:00 p.m.


Location
Duchossois Center for Advanced Medicine
5758 S. Maryland Avenue, Room 2E
Chicago, IL 60637
What you need to know to donate
For our donors, we are equally committed to your health and wellbeing. We continue to require masks in the hospital, maintain social distancing measures, and clean and disinfect between donors. Information about COVID-19 visitor restrictions.
Donors must have a healthy meal and drink plenty of water before donating. Completing a donor questionnaire and a mini-physical will ensure the safety of the donor and that donated blood products meet donation guidelines. Your time at the BDC will depend on the blood product donated. The donation process for blood will take about 50 minutes while donating platelets will take up to 3 hours. After your donation, please enjoy some snacks and juice. For more information, check out out frequently asked questions about blood donation page.
Why should I choose to donate at the University of Chicago Medicine Blood Donation Center?
All of the blood and platelets donated at the UCM Blood Donation Center stay here for our patients. We rely on your donations to maintain an adequate blood supply. Hospital-based donation centers, like the UCM Blood Donation Center, can be crucial to maintain hospital blood product inventory when regional and national blood suppliers experience shortages.
Someone needs blood every 2 seconds
About one in seven people entering a hospital need blood
Only 37 percent of the U.S. population is eligible to donate blood — less than 10 percent do annually
Trauma patients often need immediate life-saving transfusions
Cancer patients often need regular transfusion during their course of treatment
Some organ transplant patients need multiple units of blood and platelets during their surgery
Some high-risk pregnancies require multiple units of blood
What can I expect when I get to the Blood Donation Center?
You will complete a medical history form and sign a consent for phlebotomy and required testing of your blood.

A mini-physical exam is performed. We will check your blood pressure, pulse, temperature, and hemoglobin level to ensure you can donate safely.

If everything meets the guidelines, you are ready to donate your blood or platelets. Our expert staff will collect your blood or platelets using sterile collection kits while you relax in one of our comfortable donor chairs. You will have one arm free so you can use your phone, tablet, or watch TV. Afterwards, you are encouraged to refresh for at least 15 minutes while you enjoy some snacks and juice. After refreshing, you can resume your usual activities, although we recommend limiting strenuous activity for 24 hours.
What happens to my blood or platelets after my donation?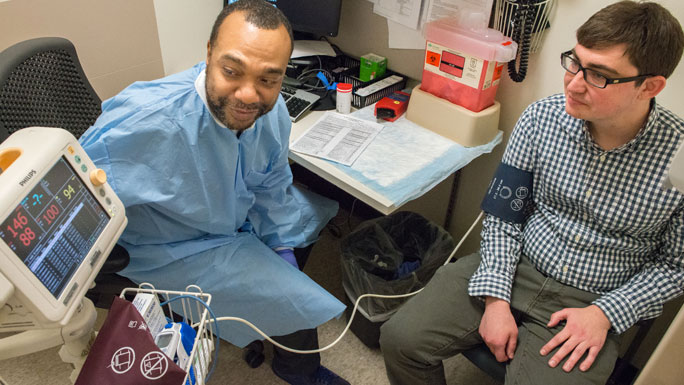 Your blood is just beginning its journey. Your donation and samples are transported to the UCMedicine Blood Bank. The samples undergo a variety of tests to ensure the safety of the blood product. The blood product is then labeled and placed into inventory ready for patient use.

Platelets only have a 5-day shelf life from collection. Red Cells typically have a 42-day shelf life.
How often can you donate blood or platelets?
Blood can be donated every 56 days
Platelets can be donated once every seven days, for a total of 24 times in a rolling 12-month period
After your donation, consider scheduling your next appointment!
Health & Science Articles