Blood Donation Is the Gift of Life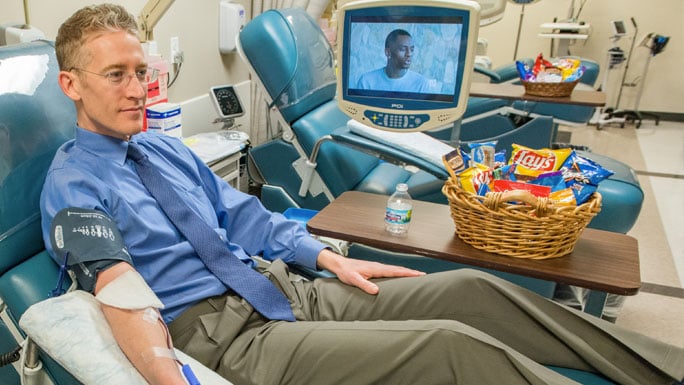 A decision to donate your blood can save lives. Donating blood is a simple, meaningful way to give back and to help support our patients.
A safe blood supply saves lives and improves health. A constant supply of blood is necessary for the life-saving treatments needed by many patients here at the University of Chicago Medicine.
4.5 million Americans will a need blood transfusion each year.
Someone needs blood every two seconds.
About one in seven people entering a hospital need blood.
Only 37 percent of the U.S. population is eligible to donate blood — less than 10 percent do annually.
There is a constant need for regular blood donation because blood products can only be stored for a limited time before use. Regular blood donations by a sufficient number of healthy people are needed to ensure that safe blood will be available whenever and wherever it is needed.
Transfusion of blood and blood products is necessary to support complex medical, obstetrical and surgical procedures. Transfusion can also help some patients with anemia live longer and with a higher quality of life.
We will try to accommodate your needs and get you through the donation process as quickly and easily as possible.
About Donating Blood or Platelets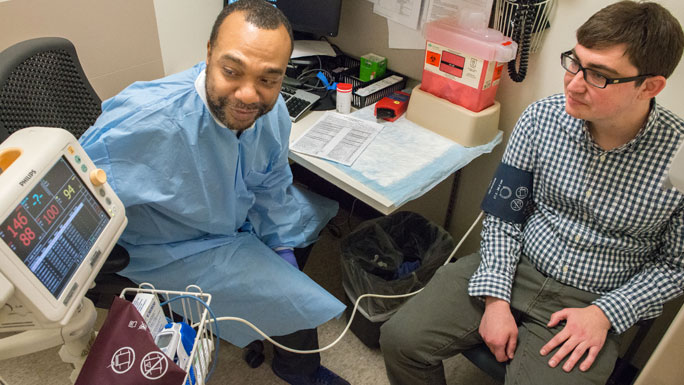 When you get to the Blood Donation Center, you'll complete a medical history form and sign a consent. The consent allows us to perform the tests that are required.
A mini-physical exam is performed. We'll check your blood pressure, pulse, temperature and hemoglobin level to ensure you can donate safely.
If everything is acceptable, you're ready to donate your blood or platelets. Our expert staff — using new, sterile, disposable collection kits — will collect your blood or platelets while you relax in one of our comfortable donor chairs. You can watch TV or read a magazine.
Donating blood will take about 30 minutes.
Donating platelets will take about 2 hours.
Afterwards, you are encouraged to relax for at least 15 minutes while you enjoy some refreshments.
Once you've rested, you're free to go and resume your activities, although we recommend limiting strenuous activity for 24 hours.
Your blood is just beginning its journey. Your donation will be transported to the Blood Bank where it will undergo a variety of tests to ensure it is safe for donation and used for compatible patients. Read frequently asked questions about blood donation.
Therapeutic Phlebotomy
The UChicago Medicine Blood Donation Center also offers therapeutic phlebotomy, which can help control high iron levels for patients predisposed to iron overload by hemochromatosis or transfusion.
Directed Donor Program
At our Blood Donation Center, you can even donate specifically to a family member or friend. Just provide the recipient's name to our staff. If the recipient needs blood and your blood is compatible, your blood donation will be used for that individual.
You can also bank your own blood at the blood donation center to be used during a scheduled surgery.
Make a Blood Donation Appointment
Call 773-702-6247 to make an appointment.

Hours
Monday through Friday
7:30 a.m. to 3:30 p.m.

Location
Duchossois Center for Advanced Medicine
5758 S. Maryland Avenue, Room 2E
Chicago, IL 60637
Health & Science Articles