Skip to content
175 UChicago Medicine doctors named to 2021 "Top Docs" list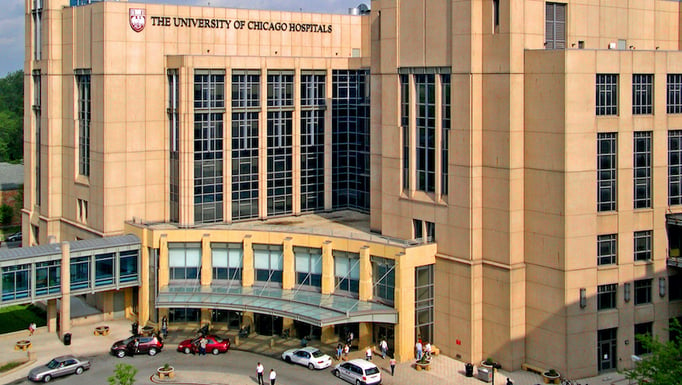 More than 170 University of Chicago Medicine and University of Chicago Medicine Comer Children's physicians are recognized for being at the forefront in their fields in Chicago magazine's Top Doctors and Top Doctors for Moms and Kids lists of 2021.
While these lists don't include all types of medicine, they do highlight surgeons and doctors treating cancer, digestive diseases, neurology, pediatrics, obstetrics and other specialties.
The Chicago-area doctors named were selected by their peers and through consideration of factors such as clinical excellence, bedside manner, education and board certification. Data are collected and analyzed by the research company Castle Connolly Medical.
Allergy & Immunology
Christina E. Ciaccio, MD, MSc
Steve W. Handoyo, MD
Anesthesia & Pain Medicine
Magdalena Anitescu, MD, PhD
Clinical Genetics
Dermatology
Diana Bolotin, MD, PhD
Dermatology Surgery
Diana Bolotin, MD, PhD
Diagnostic Radiology
Paul J. Chang, MD
Jeffrey A. Leef, MD
Gregory S. Stacy, MD
Endocrinology, Diabetes & Metabolism
George L. Bakris, MD
Ronald N. Cohen, MD
David A. Ehrmann, MD
Louis H. Phillipson, MD, PhD
David H. Sarne, MD
Tamara J. Vokes, MD
Gastroenterology
Russell D. Cohen, MD
Ira M. Hanan, MD
David T. Rubin, MD
Carol E. Semrad, MD
Helen S. Te, MD
Irving Waxman, MD
Geriatric Medicine
Stacie Levine, MD
Gynecologic Oncology
Nita Karnik Lee, MD
Ernst Lengyel, MD, PhD
Hematology
Hongtao Liu, MD, PhD
Wendy Stock, MD
Hospice & Palliative Medicine
Monica Malec, MD
Infectious Diseases
Jean-Luc Benoit, MD
Kathleen Mullane, DO, PharmD
David Pitrak, MD
Kenneth Pursell, MD
Stephen Weber, MD
Internal Medicine
Diane Altkorn, MD
Deborah Burnet, MD
Kamala G. Cotts, MD
Mindy Schwartz, MD
Monica B. Vela, MD
Medical Oncology
Michael Bishop, MD
Simona Chivu, MD (Silver Cross)
Gini F. Fleming, MD
Thomas F. Gajewski, MD, PhD
Lucy Godley, MD, PhD
Olwen Hahn, MD
Andrzej Jakubowiak, MD, PhD
Hedy Lee Kindler, MD
Justin Kline, MD
Rita Nanda, MD
Olufunmilayo I. Olopade, MD

Blase Polite, MD
Mark J. Ratain, MD
Sonali M. Smith, MD
Everett E. Vokes, MD
James A. Wallace, MD
Nuclear Medicine
Daniel Appelbaum, MD
Nephrology
Mary S. Hammes, DO
Neurology
James R. Brorson, MD
Adil Javed, MD, PhD
Thomas J. Kelly, MD
Richard P. Kraig, MD
Anthony T. Reder, MD
Raymond Roos, MD
Obstetrics & Gynecology
Anita K. Blanchard, MD
Monica Christmas, MD
Catherine Harth, MD
Stacy Tessler Lindau, MD, MA
Ken Nunes, MD
Maryam Siddiqui, MD
Orthopedic Surgery
Rex Haydon, MD, PhD
Sherwin S.W. Ho, MD
George Miz, MD
Christopher Sullivan, MD, MPH
Ophthalmology
James J. Reidy, MD
Ophthalmology Surgery
Seenu Hariprasad, MD
Otolaryngology and Facial Plastic Surgery
Nishant Agrawal, MD
Elizabeth Blair, MD
Michael B. Gluth, MD
Jayant Pinto, MD
Andrea Shogan, MD
Pathology
Daniel A. Arber, MD
Anthony Chang, MD
John Hart, MD
Pediatrics
Developmental and Behavioral Pediatrics
Michael Msall, MD
Pediatric Endocrinology
Dianne Deplewski, MD
Siri Atma W. Greeley, MD, PhD
Christine Yu, MD
Pediatric Gastroenterology
Ruba K. Azzam, MD, PhD
Pediatric Hematology/Oncology
Eric C. Beyer, MD, PhD
Susan L. Cohn, MD
John Cunningham, MD
Jill de Jong, MD, PhD
Tara Henderson, MD, MPH
James LaBelle, MD, PhD
Jennifer McNeer, MD, MS
Radhika Peddinti, MD
Samuel L. Volchenboum, MD, PhD, MS
Pediatric Infectious Diseases
Barbara Hendrickson, MD
Daniel Johnson, MD
Pediatric Neurology
Carol Macmillan, MD
Pediatric Otolaryngology
Fuad Baroody, MD
Dana L. Suskind, MD
Pediatric Psychiatry
Karam Radwan, MD
Pediatric Rheumatology
Melissa Tesher, MD
Linda Wagner-Weiner, MD, MS
Pediatric Surgery
Nikunj J. Chokshi, MD
Grace Mak, MD
Mark Slidell, MD, MPH
Pediatric Urology
Mohan S. Gundeti, MD
Plastic Surgery
Bruce Bauer, MD
David W. Chang, MD
Psychiatry
Jon Grant, MD
Marie Tobin, MD
Pulmonary Disease
Remzi Bag, MD
D. Kyle Hogarth, MD
John P. Kress, MD
Gokhan M. Mutlu, MD
Christopher Sola Olopade, MD, MPH
Julian Solway, MD
Mary E. Strek, MD
Radiation Oncology
Steven J. Chmura, MD, PhD
Philip Connell, MD
Daniel J. Haraf, MD
Yasmin Hasan, MD
Stanley Liauw, MD
Anne R. McCall, MD (Silver Cross)
Reproductive Endocrinology and Infertility
Rheumatology
James J. Curran, MD
Maria Sosenko, MD
Surgery
John C. Alverdy, MD
Peter Angelos, MD, PhD
Yolanda T. Becker, MD
John Fung, MD, PhD
Nora Jaskowiak, MD
Kevin Roggin, MD
Urogynecology
Juraj Letko, MD
Sandra Valaitis, MD
Urology and Urology Surgery
Gregory T. Bales, MD
Scott Eggener, MD
Arieh L. Shalhav, MD
Gregory Zagaja, MD
Vascular & Interventional Radiology
Brian Funaki, MD
Thuong Van Ha, MD
Vascular Surgery
Ross Milner, MD
News from UChicago Medicine