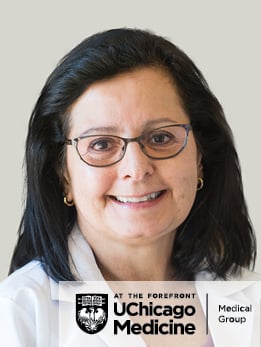 Clinical Associate of Medicine
UCM Medical Group physicians with privileges at the hospital are independent physicians. They are not employees or agents of the University of Chicago Medical Center or Ingalls Memorial.
Close
773-834-0066
Maria Sosenko, MD, is an award-winning rheumatologist who has practiced in suburban Will Country for more than three decades. Dr. Sosenko specializes in diagnosing and treating rheumatoid, psoriatic arthritis and gout. She also treats patients with autoimmune disorders, including lupus and Sjögren's syndrome, and has a special interest in osteoporosis.
Dr. Sosenko is ranked on U.S. News & World Report's "Best Rheumatologists" list, and collaborated on a 2016 study reviewing the cardiovascular safety of commonly prescribed arthritis medications.