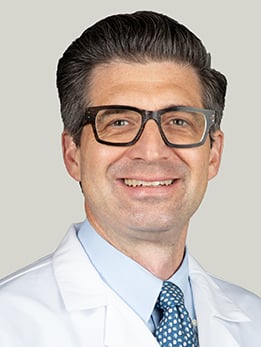 Pediatric Hematology & Oncology (Pediatric Cancer) | More
Associate Professor of Pediatrics
Director, Hematopoietic Stem Cell Transplantation Program
UChicago Faculty Physicians hold faculty positions with the University of Chicago and provide care for patients on the academic health system's main campus in Hyde Park and in care centers throughout the Chicago region.
Close
773-702-9158
James LaBelle, MD, PhD, provides care for children of all ages with cancer and blood diseases, including leukemia and lymphoma. In particular, Dr. LaBelle specializes in stem cell transplantation, replacing a patient's diseased bone marrow and immune system with healthy cells.
Dr. LaBelle's laboratory research focuses on understanding at a molecular level the reason why some pediatric cancers are resistant to therapy. He currently serves as the primary investigator on a study examining a critical network of proteins that regulate whether a malignant cell lives or dies. The normal signaling between these proteins often is disturbed in cancerous cells. Through this research, he hopes to identify novel cell death regulatory mechanisms in resistant hematopoietic malignancies and design effective strategies to overcome them. Dr. LaBelle's research is currently funded by the National Institutes of Health.
A dedicated mentor, Dr. LaBelle also received special recognition for teaching medical students, residents, and fellows about pediatric hematology, oncology and hematopoietic stem cell transplantation.