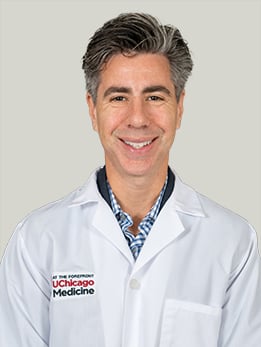 Pediatric Hematology & Oncology (Pediatric Cancer) | More
Associate Professor of Pediatrics Dean of Master's Education
Associate Chief, Research Informatics Officer
Associate Director, Institute for Translational Medicine
A clinically integrated network of physicians and providers employed by UChicago Medicine who offer care in inpatient, community, ambulatory, acute care or extended care settings.
Close
773-702-8222
Samuel L. Volchenboum, MD, PhD, MS, is an expert in pediatric cancers and blood disorders. He has a special interest in treating children with neuroblastoma, a tumor of the sympathetic nervous system.
In addition to caring for patients, Dr. Volchenboum studies ways to harness computers to enable research and foster innovation using large data sets. He directs the development of the International Neuroblastoma Risk Group Database project, which connects international patient data with external information such as genomic data and tissue availability. The Center he runs provides computational support for the Biological Sciences Division at the University of Chicago, including high-performance computing, applications development, bioinformatics, and access to the clinical research data warehouse.
Read more from Dr. Samuel Volchenboum