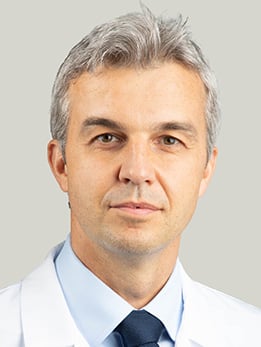 Juraj Letko, MD, is a gynecologist with advanced training in female pelvic medicine and reconstructive surgery. He is one of a few urogynecologists in the United States who received training in both obstetrics and gynecology and urology. He provides treatment to women with a wide range of pelvic conditions, including pelvic organ prolapse, urinary incontinence, urinary infections, and painful and irritative voiding disorders.
Dr. Letko's expertise lies in minimally invasive gynecologic treatments including vaginal, laparoscopic, and robotic surgeries. He provides highly specialized care to women who encounter complications after prior pelvic surgeries, including mesh complications and urogenital fistulae, and he treats women with developmental abnormalities of the urogenital tract. Dr. Letko also provides a full range of gynecologic care for women in reproductive and postmenopausal age groups. Dr. Letko takes a holistic approach to treatment and works closely with colorectal surgeons, radiologists, and physical therapists to deliver high-quality care to patients.
Dr. Letko has published scientific articles in high-impact, peer-reviewed journals and has presented his research at national and international conferences. He has been recognized as one of America's Top Doctors by Castle Connolly and Chicago Magazine.