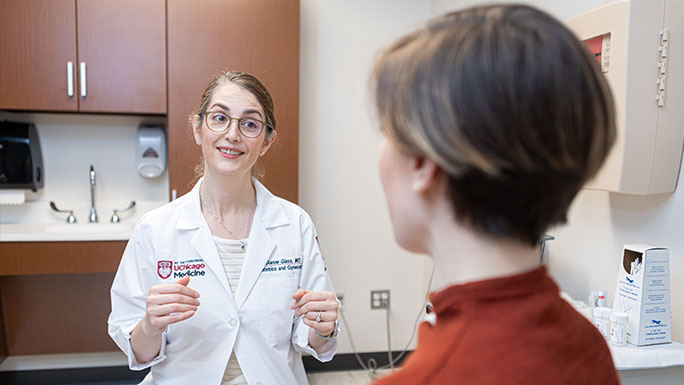 Pelvic floor disorders are more common than you think and can occur at any age. At least one in three women will experience a pelvic floor disorder in her lifetime, and one in four women older than 20 suffers from pelvic floor symptoms like urine or stool leakage. If you're one of them, you know how much these symptoms can disrupt your daily life.

One in five women will need to undergo surgery to treat a pelvic floor disorder. Unfortunately, 30 percent of these women face the risk of needing repeat surgery, which is why our urogynecologic surgeons at the University of Chicago Medicine are committed to personalized treatment and cutting-edge research.
What are Pelvic Floor Disorders?
Pelvic floor disorders are a group of conditions that affect the pelvic floor, which includes the muscles, ligaments and connective tissue that support the pelvic organs (bladder, uterus, vagina and bowel). The pelvic floor prevents these organs from dropping down and helps them work correctly.

Pelvic floor disorders include:
Although you can reduce your risk for pelvic floor disorders with diet, exercise and healthy living, you cannot avoid some of the greatest risk factors, including aging, menopause, childbirth and family history.
About Pelvic Organ Prolapse
Types of pelvic organ prolapse:
Uterovaginal prolapse (top left)
Anterior vaginal wall prolapse (top right)
Posterior vaginal wall prolapse (bottom left)
Vaginal vault prolapse (bottom right)
About Urinary Incontinence
Normal: The bladder stays relaxed and the urethra stays contracted and closed until the patient is ready to void.
Urgency Incontinence: Bladder muscle contracts before the patient is ready to void.
Stress Incontinence: The urethra is too weak to stay closed during increased intra-abdominal pressure.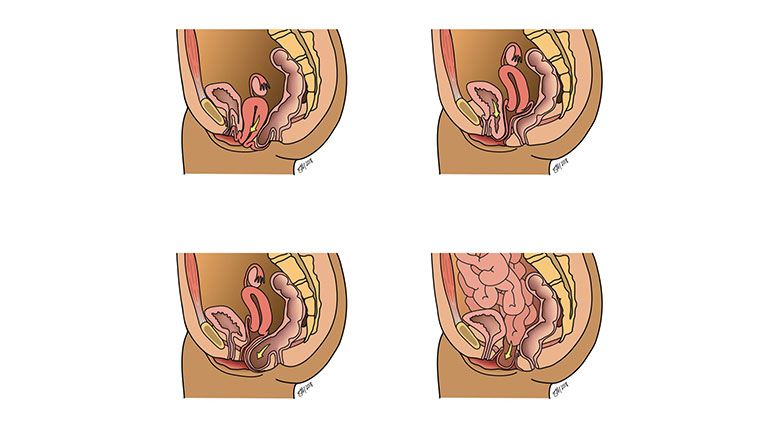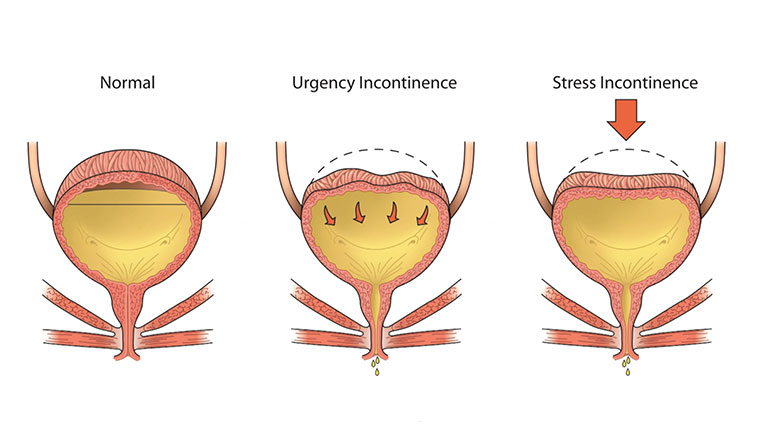 Treatment for Pelvic Floor Disorders
If you're bothered by symptoms of a pelvic floor disorder, you don't have to keep suffering. At the University of Chicago Medicine, our urogynecologists are committed to providing personalized treatment based on the latest research.

We offer a wide range of nonsurgical and surgical treatments that are more effective than ever before for pelvic floor disorders. With minimally invasive outpatient procedures, you can also recover more quickly and return to your usual activities as soon as possible.
Research to Understand and Treat Pelvic Floor Disorders
Research is critical to our mission, and UChicago Medicine is one of six research sites participating in the Pelvic Floor Disorders Network, which aims to uncover new ways to treat pelvic floor disorders.

Our surgeons are also active in international studies to help prevent and treat pelvic floor disorders and are widely published in leading journals such as the Journal of the American Medical Association and the New England Journal of Medicine.
Find a Urogynecologist Near You
Learn More About Urogynecology and Pelvic Floor Conditions