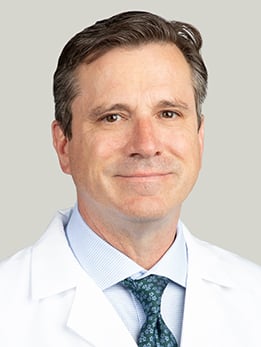 Professor of Radiation and Cellular Oncology
Associate Chair for Academic Affairs
UChicago Faculty Physicians hold faculty positions with the University of Chicago and provide care for patients on the academic health system's main campus in Hyde Park and in care centers throughout the Chicago region.
Close
855-702-8222
Philip Connell, MD, is an expert in radiotherapy with a particular focus on sarcomas, thoracic cancers, and pediatric malignancies.
In addition to his clinical responsibilities, Dr. Connell is an active cancer researcher. He received laboratory training in cancer biology through a National Cancer Institute fellowship. His oncology research program is working to identify molecular markers of treatment resistance and to develop new anti-cancer agents that can overcome these molecular hurdles. His newest ongoing projects involve several novel, high-throughput assays designed to identify potential drugs that modify DNA repair. With these systems, researchers have the potential to discover new chemical compounds with wide-ranging impacts — from improving present oncology therapies to blocking the mutagenic effects of chemotherapy and radiotherapy.
Dr. Connell has received several awards including the American Society of Clinical Oncology Merit Award, American Brachytherapy Society Research Award, Roentgen Society Research Award, Samuel Hellman Teacher of the Year Award, and American Society for Therapeutic Radiology and Oncology Junior Faculty Fellowship Award. He has authored numerous medical reports and textbook chapters, and he serves as a reviewer for several medical journals.
He is recognized as a Top Doctor by various publications, including Newsweek and Chicago magazine.
UChicago Faculty Physicians who provide services at UChicago Medicine Ingalls Memorial are not employees or agents of UChicago Medicine Ingalls Memorial.