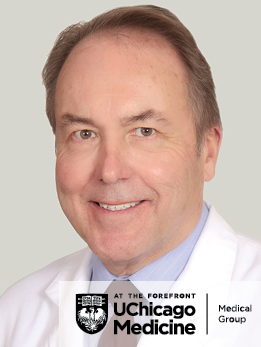 Dr. George Miz is a fellowship-trained and board-certified orthopedic surgeon who has treated disorders of the spine since 1985.
Dr. Miz treats a broad array of spinal conditions, including herniated discs, spine deformities, sciatica, trauma, and tumors, to name a few. He specializes in helping patients with degenerative spinal conditions and offers effective treatments using the most current techniques. In fact, Dr. Miz was one of the first surgeons in the area to enroll in clinical trials which allows him to perform artificial disc replacement, an innovative treatment for degenerative disc disease.
Dr. Miz provides comprehensive, individualized care for each of his patients. His conservative approach means he offers the most effective treatments with the least risk. And as an expert in minimally-invasive surgery, Dr. Miz provides options that allow shorter recovery times for most patients so they can get back on their feet as soon as possible.
The physicians at UChicago Medicine Ingalls Memorial are independent medical practitioners and are not employees or agents of Ingalls Memorial or the University of Chicago Medical Center ("UChicago Medicine").