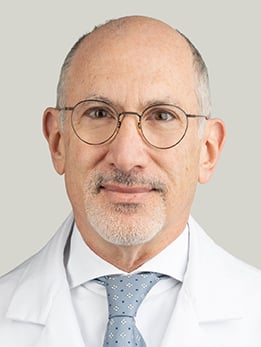 Jeffrey B. Matthews, MD, is a gastrointestinal surgeon and leading authority on the surgical treatment of diseases of the pancreas, bile ducts, and
liver
. He is highly skilled in the treatment of
acute
and
chronic pancreatitis
, and is one of a handful of surgeons in the nation who has expertise in
islet autotransplantation
, a treatment that prevents the development of diabetes after surgery for pancreatitis. He also has vast experience in bile duct reconstruction and complex reoperative gastrointestinal surgery.
Dr. Matthews has held several leadership positions during his distinguished career. Currently, he serves as senior director of the American Board of Surgery and president of the Society for Surgery of the Alimentary Tract.
Dr. Matthews' laboratory research explores the fundamental mechanisms used by epithelial tissues to regulate secretion — which goes awry in several diseases, including cystic fibrosis and many types of diarrhea. This research has received long-term support from the National Institutes of Health.
An accomplished author, Dr. Matthews has published over 150 original articles, chapters and editorials. He serves on the editorial board of 11 prestigious surgical and scientific journals and is currently associate editor of the
Journal of Gastrointestinal Surgery
.
Dr. Matthews is dedicated to teaching and mentoring medical students and new physicians, and has received awards for excellence in teaching. A popular speaker, Dr. Matthews is frequently invited to lecture at universities and medical conferences across the United States and abroad.