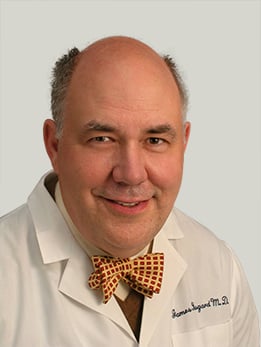 Associate Professor of Pediatrics and Neurology
Director, University of Chicago Ambulatory Program for Neurofibromatosis
A clinically integrated network of physicians and providers employed by UChicago Medicine who offer care in inpatient, community, ambulatory, acute care or extended care settings.
Close
773-702-6169
A pediatric neurologist, James Tonsgard, MD, is an expert in neurofibromatosis (NF), epilepsy and seizures, and neurocutaneous disorders, including tuberous sclerosis. Dr. Tonsgard provides comprehensive care for both children and adults with neurofibromatosis. In addition, Dr. Tonsgard specializes in mental retardation and metabolic brain disease.
Dr. Tonsgard is an active researcher and is studying various biochemical processes that may affect neurological diseases. He conducts clinical research in neurofibromatosis and is one of the principle investigators in a government-sponsored consortium for the development of treatments for NF.