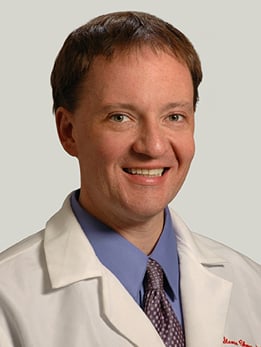 Radiation Oncology, Neuro-Oncology (Brain & Spinal Tumors) | More
Professor of Radiation and Cellular Oncology Director, Clinical and Translational Research for Radiation Oncology
Scientific Director, Cancer Clinical Trials
UChicago Faculty Physicians hold faculty positions with the University of Chicago and provide care for patients on the academic health system's main campus in Hyde Park and in care centers throughout the Chicago region.
Close
855-702-8222
Steven J. Chmura, MD, PhD, specializes in treating brain, breast and gastrointestinal cancers. An expert in radiotherapy and stereotactic radiosurgery (SRS), Dr. Chmura uses minimally invasive techniques to minimize tissue damage when diagnosing and treating cancers.
Dr. Chmura is also an expert in using intensity modulated radiation therapy (IMRT) to treat gastrointestinal malignancies such as colon, anal and pancreatic cancers. Because the radiation is precisely shaped to avoid healthy tissue surrounding the treatment area, this technology allows physicians to target tumors with more powerful doses of radiation.
An active researcher, Dr. Chmura is the principal investigator at the University of Chicago for the Radiation Trials Oncology Group (RTOG). In this role, he is involved in national randomized studies and industry-sponsored studies. His basic science research explores improvements to current radiation approaches. For example, in collaboration with other University of Chicago researchers, Dr. Chmura is working on the development of a BH3 antagonist to increase the therapeutic ratio of radiotherapy. This research earned him the 2005 American Society for Therapeutic Radiology and Oncology (ASTRO) Young Investigator Award. Dr. Chmura is also investigating how to optimize the software used to deliver IMRT to maximize tumor cell killing.
Additionally, he was awarded the 2006 and 2008 American Association of Radiation Oncology Residents teaching Award. Dr. Chmura's teaching responsibilities include lecturing and clinical teaching of medical students and residents.
UChicago Faculty Physicians who provide services at UChicago Medicine Ingalls Memorial are not employees or agents of UChicago Medicine Ingalls Memorial.