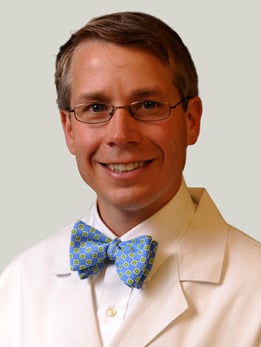 Vascular Surgery, Surgery | More
Professor of Surgery Chief, Section of Vascular Surgery and Endovascular Therapy
Medical Director, Noninvasive Vascular Imaging Laboratories
UChicago Faculty Physicians hold faculty positions with the University of Chicago and provide care for patients on the academic health system's main campus in Hyde Park and in care centers throughout the Chicago region.
Close
773-702-6128
Christopher Skelly, MD specializes in vascular surgery. He performs a full range of open and endovascular procedures, including the treatment of carotid disease, complex aortic pathologies and peripheral vascular disease. In addition, he performs minimally invasive surgery for the treatment of median arcuate ligament syndrome.
In addition to his clinical practice, Dr. Skelly directs a research laboratory aimed at improving outcomes and durability of vascular graft repairs. As a 2008 recipient of the NHLBI Jointly Sponsored Mentored Clinical Scientist Development Award, his research is funded by the American Vascular Association (AVA)/American College of Surgeons (ACS) and the National Heart, Lung and Blood Institute (NHLBI). Dr. Skelly has authored more than 35 scientific articles in peer-reviewed journals, and several book chapters and reviews. He is working on numerous clinical trials, including a below-knee arterial bypass trial, for which he serves as site-principal investigator.
UChicago Faculty Physicians who provide services at UChicago Medicine Ingalls Memorial are not employees or agents of UChicago Medicine Ingalls Memorial.