For over 100 years, world-renowned clinicians and scientists at the University of Chicago Medicine have been pioneering first-line treatments and advanced diagnoses, providing unparalleled care for all types of aortic conditions.
As one of the most established aortic programs in the region, the UChicago Medicine Center for Aortic Diseases' comprehensive team of cardiac and vascular surgeons, cardiovascular anesthesiologists, cardiologists, vascular radiologists, nurse practitioners and social workers work together to design a treatment plan that complements each individual patient's needs and lifestyle.
About the Aorta
The aorta is the largest artery in the body and it supplies blood from the heart to the rest of the body. Oxygen-rich blood enters the aorta with each contraction of the left ventricle and travels throughout the body through the smaller arteries branching from it.
Aortic Conditions We Treat
We offer state-of-the-art diagnostic imaging and leading-edge treatment to deliver advanced, compassionate care. We are experienced in treating patients who are otherwise considered at increased risk due to co-existing conditions and other factors, and for those requiring complex aortic re-interventions. We use the latest minimally invasive techniques to manage the following aortic conditions:
Treating Aortic Disease
Our expert team understands each patient is an individual and we know each patient's condition is unique and deserves personalized treatment. That's why we offer our patients a wide range of treatment options, in order to find the ideal care plan to help manage their vascular condition. Some treatments include:
Medical management (lifestyle changes, medications, surveillance)
Open or endovascular repair
Valve-sparing root replacement
Biological composite aortic graft
Homograft root replacement
Ross procedure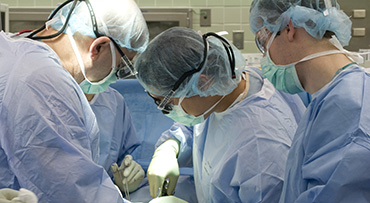 Get a Second Opinion

Get a Second Opinion Online
Whether you are facing a complex health issue or difficult treatment decision, getting a second opinion can help you make an informed decision about your care. Get an online second opinion from one of our experts without having to leave home.
Jim Schaffer is able to run again after vascular surgeon repairs his aneurysm
Jim Schaffer, sidelined from competitive running for several years, made his comeback at the 2015 University of Chicago Medicine Comer Children's Hospital RBC Race for the Kids. "It was great to get back to being able to do a competitive race," said Schaffer, of Oswego, who ran with the medical center surgeon who performed his life-changing bypass. "Even to run a few miles means so much to me. Before, I literally could not run at all."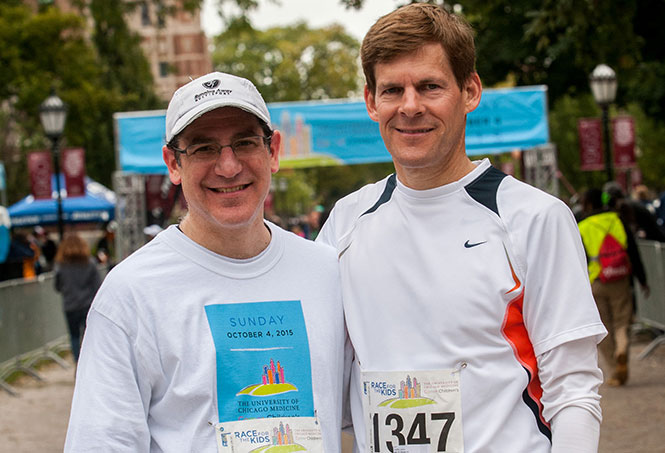 Request an Appointment
The information you provide will enable us to assist you as efficiently as possible. A representative will contact you within one to two business days to help you schedule an appointment.
To speak to someone directly, please call 1-773-702-6128. If you have symptoms of an urgent nature, please call your doctor or go to the emergency room immediately.
Find an Aortic Disease Location Near You
Learn more about aortic disease