Skip to content
78 University of Chicago Medicine physicians named to 2020 "Top Doctors" list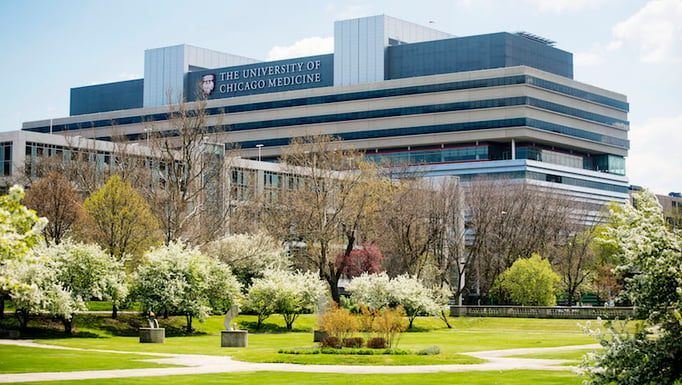 Seventy-eight University of Chicago Medicine physicians were named "Top Doctors" in the Chicago area based on a selective annual list published by Chicago magazine.
The Hyde Park-based academic medical center had more doctors than any other hospital on the 2020 report. The UChicago Medicine clinicians accounted for 21% of the 356 doctors selected from the city and suburbs. In some specialty categories, such as cardiac surgery and pulmonology, only UChicago Medicine physicians were chosen.
The annual roster is based on data collected from Castle Connolly Medical Ltd., a health care research and information company. The doctors are nominated by their peers nationwide and considered based on their clinical excellence, bedside manner, education and board certifications. Doctors do not and cannot pay to be selected.
The UChicago Medicine doctors included on this year's list are:
Cancer
Gynecologic Oncology
Medical Oncology
Radiation Oncology
Heart & Blood
Cardiac Electrophysiology
Roderick H. Tung, MD
Cardiac Surgery
Cardiovascular Disease
James K. Liao, MD
Hematology
Organs & Glands
Dermatology
Endocrinology, Diabetes & Metabolism
Gastroenterology
Irving Waxman, MD
Nephrology
Ophthalmology
Otolaryngology
Pulmonology
Edward Raymond Garrity, MD
Urology
Gregory T. Bales, MD
Surgery
Colon & Rectal Surgery
Neil H. Hyman, MD
Hand Surgery
Daniel P. Mass, MD
Orthopedic Surgery
Douglas R. Dirschl, MD
Plastic Surgery
Raphael Carl Lee, MD
Surgery
Thoracic & Cardiac Surgery
Women
Obstetrics & Gynecology
Urogynecology, Female Pelvic Medicine & Reconstructive Surgery
Children
Child Neurology
Pediatric Gastroenterology
Stefano Guandalini, MD
Pediatric Hematology & Oncology
Pediatric Otolaryngology
Pediatric Rheumatology
Pediatric Surgery
Pediatric Urology
Radiology
Diagnostic Radiology
Heber MacMahon, MB, BCh
Neuroradiology
Gregory A. Christoforidis, MD
Radiology
Vascular & Interventional Radiology
Other Specialties
Geriatric Medicine
Infectious Disease
Kenneth Pursell, MD
Neurology
Barry G.W. Arnason, MD
Psychiatry
Rheumatology
Patient Care Articles & News