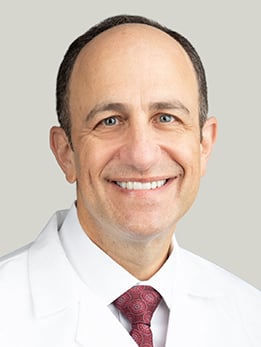 Joseph B. Kirsner Professor of Medicine Chief, Section of Gastroenterology, Hepatology and Nutrition
Co-Director, Digestive Diseases Center
A clinically integrated network of physicians and providers employed by UChicago Medicine who offer care in inpatient, community, ambulatory, acute care or extended care settings.
Close
773-702-6140
Meet Dr. Rubin, Section Chief of Gastroenterology, Hepatology and Nutrition
David T. Rubin, MD, is a renowned gastroenterologist who specializes in the treatment and assessment of digestive diseases. His clinical expertise includes inflammatory bowel diseases (Crohn's disease and ulcerative colitis) and high-risk cancer syndromes.
Dr. Rubin performs clinical research related to outcomes in inflammatory bowel diseases, with particular interest in prevention of cancer associated with these gastrointestinal diseases. He is also interested in new therapies for inflammatory bowel diseases, better screening tools for colorectal cancer, and the genetics of inflammatory bowel diseases.

Read more from Dr. David T. Rubin