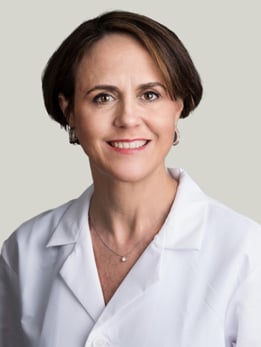 Thoracic Surgery, Surgery | More
Professor of Surgery
Chief, Section of Thoracic Surgery
UChicago Faculty Physicians hold faculty positions with the University of Chicago and provide care for patients on the academic health system's main campus in Hyde Park and in care centers throughout the Chicago region.
Close
773-702-2500
[MUSIC PLAYING] I'm Jessica Donington. I'm a general thoracic surgeon and I'm Chief of Thoracic Surgery here at the University of Chicago. General thoracic surgery is surgery in the chest. I operate on the lungs, the esophagus, the chest wall, something called the mediastinum, pretty much anything in the chest that's not like the heart or the aorta. Those things we leave to the cardiac surgeons.
I became a doctor because I was a science geek growing up. I was the kid who loved dissecting frogs. I loved biology class. That's what I was good at and that's what I thrived in. And I had a lot of good mentors who said, hey, you can do this. And I have never looked back. It's a great job and I love it.
I came to UCM because I really liked the mix of science and medicine. I've worked at several other great universities and wonderful hospitals and I really loved it. But this place has that kind of magic mix of science and medicine, and really changing what medicine does and adjust where it's going to be in five years. And I think that's really exciting.
My philosophy of care with my patients is a little bit-- I don't know, maybe it sounds corny. I treat everyone like they're my mother. I look at every one of my female patients, anyone over the age of 50, maybe not under 50, but those are-- I think if this was my mother or if this was my sister, how would they want to be treated? How would they want me to explain this to them? And that goes a long way to like hopefully being warm and kind and not too technical, but at the same time giving people the best care possible.
I'm primarily a lung cancer surgeon. Lung cancer is the disease I think about when I wake up in the morning and go to bed thinking about. It's the thing I like to treat. I treat other things but that's my disease.
It's a really tough disease. We haven't found ways to cure many people as we should, and that's why I like being at a place that goes after the science and looks for better ways to treat people and more cures. I think that's really important.
One thing that's unusual about me is that as a general thoracic surgeon, there aren't a lot of women. I'm in a field that's completely dominated by men, but I am at the cusp and more and more women are entering the field. And it's fun to be a little bit of a pioneer.
I'm not a huge pioneer. There were women who do this before me, but to be part of a small group and watching a much bigger group behind me go into a field that's so incredibly satisfying is really great. So although I'm not a great huge groundbreaker it's nice being in a little bit at the
[MUSIC PLAYING]
Jessica S. Donington, MD, MSCR, is an expert thoracic surgeon who treats the full spectrum of lung, esophageal and mediastinal conditions. Her focus is on the comprehensive and multidisciplinary care of benign and malignant chest diseases.

Dr. Donington specializes in lung cancer and treats people at all stages, providing a personalized approach to diagnosis and treatment using the latest technology and innovations, including minimally invasive and robotic surgery.

In addition to her clinical practice, Dr. Donington is an avid researcher and respected leader in her field. Her research focus is in the discovery of novel biomarkers for early detection and treatment of lung cancer and clinical trials that incorporate surgery into multimodality care plans for locally advanced and metastatic lung cancer. Dr. Donington is a past president of Women in Thoracic Surgery and the New York Society for Thoracic Surgery and serves on the editorial boards for the Annals of Thoracic Surgery and the Journal of Thoracic Oncology.


Understanding Lung Cancer
Medical oncologist Christine Bestvina, MD, thoracic surgeon Jessica Donington, MD, and patient Kathy Tentinger joined us for a candid conversation on lung cancer screening, novel lung cancer treatment options and the latest clinical trials offered at UChicago Medicine.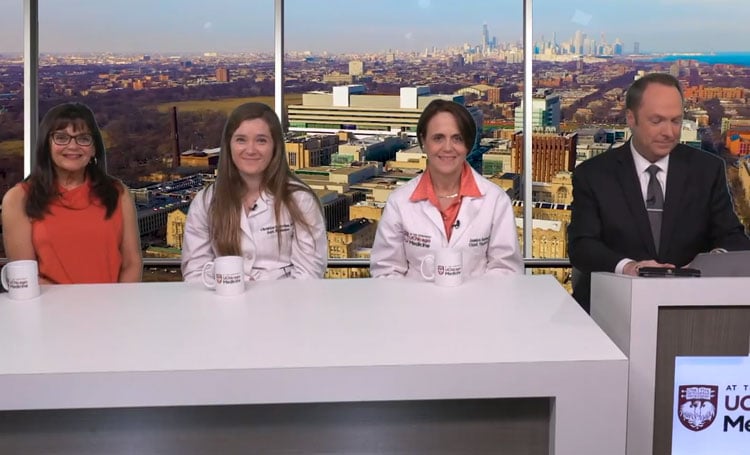 Read more from Dr. Jessica Donington