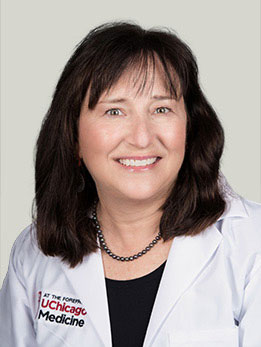 Hematology and Oncology (Cancer) | More
Anjuli Seth Nayak Professor in Leukemia
UChicago Faculty Physicians hold faculty positions with the University of Chicago and provide care for patients on the academic health system's main campus in Hyde Park and in care centers throughout the Chicago region.
Close
855-702-8222
Wendy Stock, MD, is an authority in treating patients with all types of leukemia and myelodysplastic syndromes, including hematopoietic cell transplants. Her research efforts are directed to the design of clinical trials that tailor therapy to the individual patient. She recently led national trials for treatment of acute lymphoblastic leukemia (ALL) in adults and the University of Chicago's efforts to develop innovative trials for patients with advanced ALL and AML, including novel trials of allogeneic stem cell transplantation. Based on these insights, Dr. Stock and her colleagues have initiated a clinic for the specialized treatment of young adults with blood cancers.
Her laboratory has focused on the identification of new biological prognostic factors in specific subsets of leukemia and on the clinical significance of molecular detection and monitoring of subclinical disease (or minimal residual disease) using quantitative molecular methods.
Dr. Stock is a co-leader of the University of Chicago Cancer Research Center's Program in Hematopoiesis and Hematological Malignancies and is a core member of the Leukemia and Leukemia Correlative Sciences Committees in the Alliance, a NCI-sponsored clinical trials cooperative group. She is co-chair of the NCI national clinical trials network (NCTN) Leukemia Steering committee.