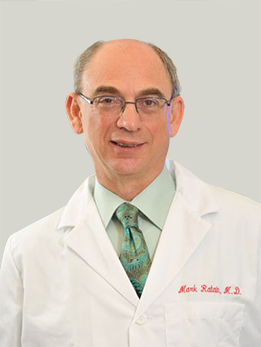 Hematology and Oncology (Cancer) | More
Leon O. Jacobson Professor of Medicine Director, Center for Personalized Therapeutics
Associate Director for Clinical Sciences, Comprehensive Cancer Center
A clinically integrated network of physicians and providers employed by UChicago Medicine who offer care in inpatient, community, ambulatory, acute care or extended care settings.
Close
855-702-8222
Mark J. Ratain, MD, is an expert in the use of investigational agents to treat advanced solid tumors. He also has a special interest in pharmacogenetics — the study of how genetic variation affects the body's response to medications.
Dr. Ratain's research focuses on the development of new oncology drugs, and developing diagnostic tests in order to create individualized anticancer therapies based on each person's genetic makeup. He is an international leader in phase I clinical trials, pharmacogenetics and clinical trial methodology. He has more than 260 original publications, leads the University of Chicago's phase I oncology trials program, serves as director of the Center for Personalized Therapeutics and is Chief Hospital Pharmacologist for the University of Chicago Medical Center. Dr. Ratain is also co-chair of the Pharmacogenomics of Anticancer Agents Research (PAAR) Group, which brings together teams of experts from across the nation to investigate advancements in pharmacogenomics.
In 2011, Dr. Ratain was awarded the Translational Research Professorship by the American Society for Clinical Oncology's (ASCO) Conquer Cancer Foundation, and named an honorary fellow by the American College of Clinical Pharmacology. In 2012, Dr. Ratain was named Visiting Professor for the Food and Drug Administration, Center for Drug Evaluation and Research, and Office of Clinical Pharmacology. He also received special recognition from the Department of Pharmaceutics and Pharmaceutical Chemistry from the College of Pharmacy, University of Utah. In 2013, Dr. Ratain was the American Society of Health System Pharmacists Spotlight on Science Featured Speaker.