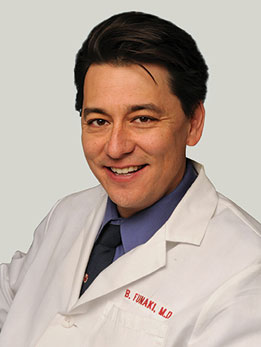 Vascular and Interventional Radiology | More
Professor of Radiology
Chief, Section of Vascular and Interventional Radiology
UChicago Faculty Physicians hold faculty positions with the University of Chicago and provide care for patients on the academic health system's main campus in Hyde Park and in care centers throughout the Chicago region.
Close
888-824-0200
An internationally recognized expert in vascular and interventional radiology, Brian Funaki, MD, performs the full range of vascular and non-vascular interventions, including angioplasty, stenting, thrombolysis and embolization, as well as transplant-related procedures. Guided by state-of-the art imaging techniques, Dr. Funaki manipulates and directs tiny instruments throughout the body for both diagnostic and treatment purposes. These minimally invasive procedures are often used as "smaller, faster, safer, better" alternatives to traditional open surgery.
Dr. Funaki's research activity is focused on vascular intervention, gastrostomy, and super selective embolization. He has more than 200 publications listed in the U.S. National Library of Medicine on a broad range of vascular and non-vascular image-guided interventions. The vast majority of his research is focused on patient care and immediately translated to clinical practice.
Throughout his career, Dr. Funaki has led many scientific and academic committees. He is a former member of the Executive Council of the Society of Interventional Radiology. An avid writer, he has authored two books and 11 book chapters. He is frequently invited to contribute articles and editorials for scientific journals, and has presented over 100 invited lectures at universities and national and international medical meetings. Dr. Funaki is an associate editor of the
Journal of Vascular
and
Interventional Radiology.
He served as editor-in-chief for
Seminars in Interventional Radiology
from 2004-2011 and is the co-editor in chief of
Updates in Interventional Radiology
. He has earned many awards and distinctions, including being listed as one of Castle and Connolly's Top Doctors, "Best Doctors in America" by Best Doctors Inc. and Chicago's Top Docs in Chicago Magazine.