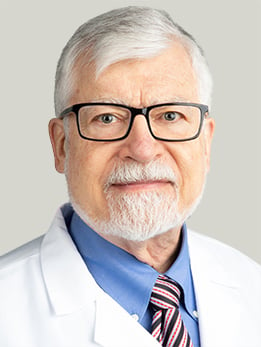 Hematology and Oncology (Cancer) | More
Professor of Medicine
Director, Hematologic Malignancies Program
UChicago Faculty Physicians hold faculty positions with the University of Chicago and provide care for patients on the academic health system's main campus in Hyde Park and in care centers throughout the Chicago region.
Close
855-702-8222
Richard A. Larson, MD, is director of the Hematologic Malignancies Clinical Research Program at the University of Chicago. He was the director of the Leukemia Clinical Research Program from 1983 to 2000, during which time he established the medical center's allogeneic blood and marrow transplant program.
Dr. Larson maintains an active clinical practice at the University of Chicago Medicine, and his expertise is widely sought for consultations regarding leukemias and myelodysplastic syndromes.
His current research interests include clinical trials in hematologic malignancies and stem cell transplantation, experimental therapeutics, the determinants of response to therapy in leukemia and myelodysplastic syndromes, and the etiology of therapy-related leukemias.
Dr. Larson is the past chairman of the Leukemia Committee of the Cancer and Leukemia Group B where he directed a large portfolio of clinical trials and ancillary laboratory studies in acute and chronic leukemias. He has also served as a member of the Hematology Subspecialty Board of the American Board of Internal Medicine.
An active researcher, Dr. Larson has published more than 400 papers, reviews, and book chapters on clinical and laboratory studies in human leukemias. He has served on the editorial boards of
BLOOD
, the
Journal of Clinical Oncology
and
Leukemia.
He also actively participates in the training of 21 fellows in Hematology/Oncology within the Department of Medicine.